This text is reproduced with kind permission of Indian Printer and Publisher, you can read the original article first published here.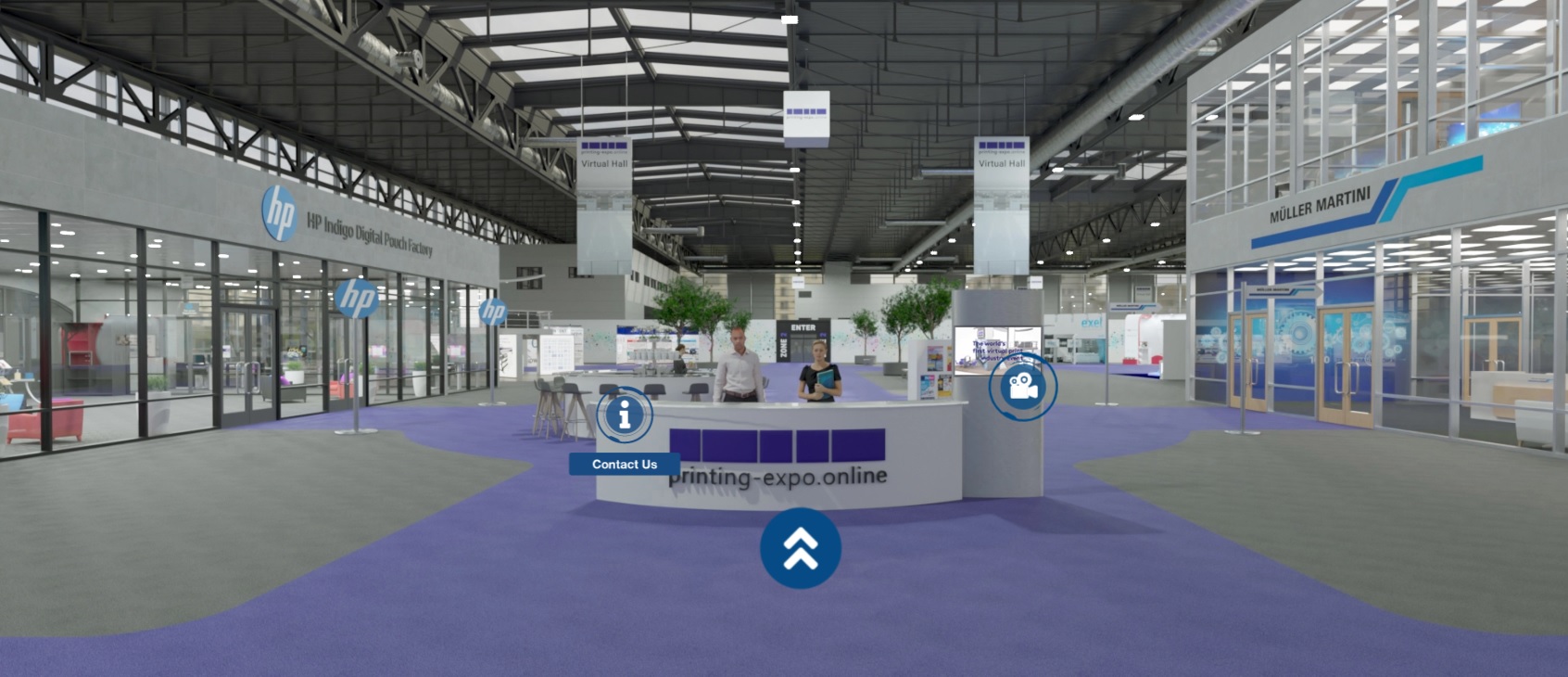 Virtual event to be available 365 days a year
Resolve Business Management (RBM), organisers of the Printing Expo virtual Exhibition are pleased to announce the launch of their fully interactive 3D online experience. Starting Monday 30th November 2020 this unique online event will be available 365 days of the year.
The show opens with Zone 1 as a preview and includes the Muller Martini Showroom and the HP Indigo Digital Pouch Factory. Zone 2 is scheduled to open in the very near future.
The Printing Expo Virtual Exhibition works in the same way as a live exhibition, except that you can visit at any time, from anywhere in the world. The hall and all the stands are rendered out to real physical dimensions. Visitors will be able to navigate through the zones and visit a virtual representation of stands, complete with 3D products. All Printing Expo exhibition stands are built using a combination of 3D rendering, photography and HD video. With this approach RBM can create photorealistic representations of existing stands or design something completely bespoke.
Like any live event, after registering, visitors are free to navigate the zones to see all the companies that are exhibiting, view high-resolution 3D equipment and download their favourite pdfs and videos and even collect promotional items or order print samples from the exhibitors.
Printing Expo offers visitors a totally immersive browsing experience and is a true 'online exhibition', in the sense that it has been designed to a 'real world' scale bringing true reality to each and every physical aspect. The show provides a genuine visitor experience, just like a live trade show and this format allows visitors to explore a complete virtual exhibition hall and discover companies and products using a unique, visual browsing interface.
Exhibitors have visibility of their stand traffic and are able to identify which content is most frequently opened and the content that is most popular. Every hotspot has the facility for visitors to email the details to themselves or a colleague, share on social media and print or request further information direct from the exhibitor.
Over time it is planned that the show will grow to include many of the world's leading printing industry brands and the visitor demographics will represent a global audience.
Wayne Beckett, Event Director of Printing Expo and Joint Managing Director of Resolve Business Management comments, "With Printing Expo we have tried very hard to make it feel and look like you are visiting a real event. We have been lucky enough to work with some really forward-thinking companies when putting together Zone 1 which has made this possible."
Printing Expo is not designed to replace live events, but to compliment them. Our exhibition is made up from what we class as digital assets, that can be used in the exhibitors own digital marketing away from the show. The Muller Martini Showroom and the HP Indigo Digital Pouch Factory for example, are fantastic environments for visitors to explore and contain lots of information, but these assets will be used by the companies own sales teams around the world as online demo centres.
Beckett continued, "The word virtual seems to be misrepresented when associated with everything online. Someone walking around their showroom filming on an iPhone is promoted as a virtual tour, but it's not a virtual tour at all. Not too long ago this would have just been called a video."
Virtual – Adjective – COMPUTING – not physically existing as such but made by software to appear to do so.
"We believe that anything virtual has to be interactive and most of all needs to be fun to visit as well as useful, which is why we have launched Printing Expo."
Printing Expo also contains its own fully interactive auditorium that has been designed to show live and pre-recorded seminars and conferences. The organisers will be working with exhibitors, conference organisers, industry associations, governing bodies and even live event organisers from around the world to produce a content programme that will run throughout the year.