Connectivity and procurement platform Zaikio has opened a 3D booth at Printing Expo Online as the free virtual exhibition doubles the size of its Zone 2 with a number of new exhibitors.
Zaikio's digital presence went live today.
Featuring what the company described as a "rather untraditional exhibition booth", its virtual stand can be accessed via portals spread across the Expo.
When on its booth, which the event's organiser dubbed "underground catacombs", visitors can download materials about Zaikio's mission, products and partners and also engage via direct contact forms.
Zaikio partner manager Karl Ciz said exhibiting was "a great step to raise awareness for Zaikio in the UK market and worldwide".
"Our goal is to speed up print shop processes with connected apps for each print shop task so print shops can unlock their true potential. So going virtual came naturally to us," he added.
Printing Expo is hosted on the V-Ex Virtual Exhibition platform and organised by Resolve Business Management, which previously worked with the Zaikio team before the platform's parent was acquired by Heidelberg.
As well as welcoming Zaikio to Zone 2, Printing Expo has also launched a Software Technology Centre in the expanded area.
Companies exhibiting in the new feature, which boasts a dedicated auditorium, include EFI Fiery, web-to-print developer Design'N'Buy and cloud-based management workflow system PrintIQ, which has relocated its presence to the feature.
The event, which launched in 2020, has also signed up another new exhibitor, Kornit Digital.
The textile and garment printing specialist's multi-storey showroom will be opening shortly according to the event organiser, which also highlighted that Xeikon has expanded its presence at the show with a Xeikon Innovation Centre – making it the virtual exhibition's largest exhibitor.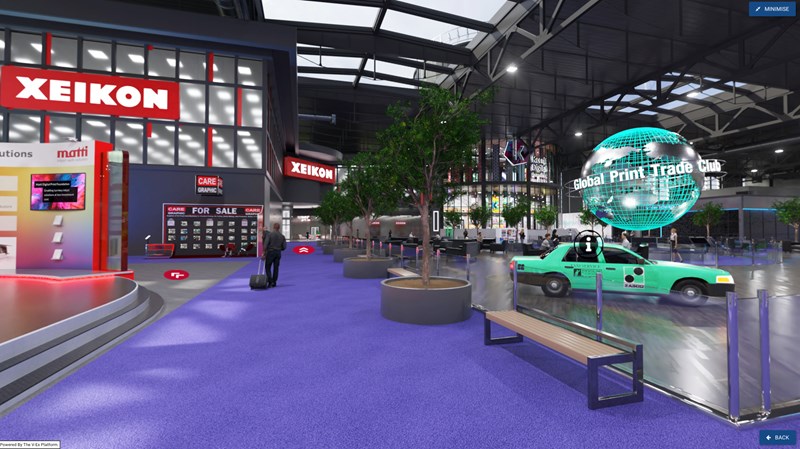 "Our exhibitors have created some amazing showrooms, stands and content," said event director Wayne Beckett.
"It's a platform on which marketeers can truly create concept environments that express the best of their company's vision and products within a virtual environment and, as we say at Printing Expo Online, they haven't let reality hold them back."
This text is reproduced with kind permission of Print Week, you can read the original article first published here