Xeikon has launched a new entry-level inkjet label press, and has several other new products in the development phase and likely to be unveiled later this year.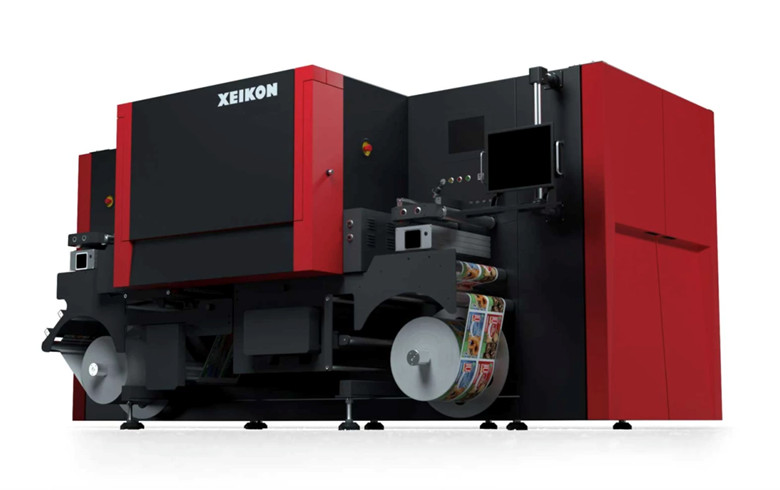 In an online briefing fresh CEO Robert Welford, who took over from the retiring Benoit Chatelard last month, said the business was in good shape and it was an exciting time for the company.
"The good news is that the work that has been done in terms of the company's product and development roadmap, its strategic direction remains exactly the same.
"So there's no reason to change all the solid foundation work which has been done and we will continue to follow," he said.
Welford said that future plans for the business, which is owned by Flint Group, included expanding the Xeikon offering beyond its core markets in labels and packaging, using its pick of the available best-in-class inkjet technology.
"The roadmap is set and there are several new products in the making. We are in the process of designing what I like to call a common platform technology from an inkjet perspective," he explained.
"We can effectively expand that to suit different widths of presses and different media types, both paper and non-absorbing substrates."
The new Label Discovery Panther UV inkjet press is targeted at users wanting to print straightforward CMYK labels, cost effectively.
It has a 220mm print width and runs at up to 50m/min.
Xeikon said the €250,000 (£220,000) press would be "profitable with just two hours printing per day".
Filip Weymans, vice president of global marketing, described the new variant as "the most sustainable UV inkjet press on the market".
"What we have noticed in the label space is that there is a growing market in terms of the entry-level segments," he said.
"With our Label Discovery Panther we have that with an investment level of just €250,000 for an advanced UV inkjet, it's really something that's going to be attractive for the industry."
Weymans also pointed to the cost and energy reduction benefits of Xeikon's Panther LED inks.
The Label Discovery Panther is available for immediate shipping.
In flexible packaging, Italian firm ACM is beta-testing Xeikon's Titon food-safe toner, which is designed to produce temperature- chemical- and scratch-resistant output without the need for additional varnishes or laminating.
Weymans said Titon was "totally unique" and would help meet the demand for more sustainable packaging – a key theme for Xeikon at the upcoming Labelexpo Europe and beyond.
Xeikon also updated on the Idera, its single-pass water-based inkjet for corrugated, where the first unit has been installed at Tristate Container Corporation's ProCorr Display & Packaging division.
"We've been working on how to significantly improve the press' ability to handle warped board, and its ability to handle large flat tints with some interesting software manipulation for optical density variation reduction, and the ability to be able to create good quality print images through careful application of primers and varnishes," Welford explained.
"We're working very much towards a solution and I think we expect to be in full production towards the end of Q2. The customer is happy with the progress we're making."
Dimitri VanGaever, market segment director for graphic arts, said Xeikon's presence at the recent Hunkeler Innovation Days, where it showed the Sirius SX30000 for the first time with Hunkeler inline finishing, had proved successful and it had high hopes for other upcoming in-person events including its return to Fespa in May, and then Labelexpo Europe in September.
At Fespa it will show its end-to-end automated system for wall decoration printing.
VanGaever pointed to the opportunity for printers in "application convergence or segment migration", by moving into adjacent markets.
"We really want to play into that by bringing a lot of different applications – there will be more than 30 applications on display on our booth – all about profitable growth and accessing these different segments."
This text is reproduced with kind permission of Print Week, you can read the original article first published here