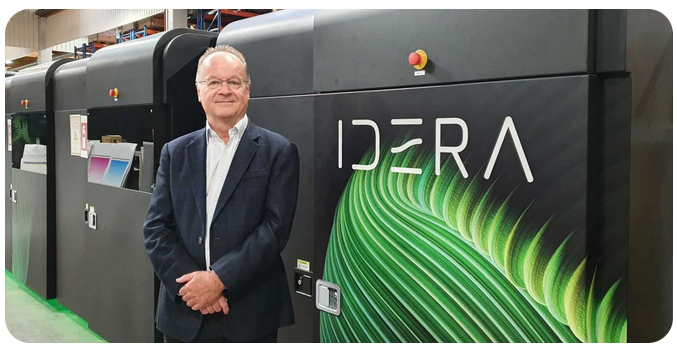 Xeikon has announced the appointment of Jens Henrik Osmundsen as Head of Corrugated Sales for the EMEA region.
Xeikon has announced the appointment of Jens Henrik Osmundsen as Head of Corrugated Sales for the EMEA region, a new role that has been created to help accelerate the digital transformation of the corrugated sector with Xeikon IDERA. His remit will be to build up and strengthen the go-to-market strategy and maximize opportunities for customers looking to take advantage of Xeikon's new single-pass, water-based digital inkjet printing technology for corrugated.
IDERA has been built by combining Xeikon's digital transformation expertise with Flint Group's corrugated know-how to deliver a new post-print inkjet technology that offers all the benefits of digital from faster production times, shorter runs and print-on-demand capabilities to full flexibility in design and meaningful savings in waste. Printing with water-based inks also makes IDERA compatible with the sustainability pledges made by brand owners worldwide.
"The corrugated market is ripe for digital transformation and I'm very excited to take on this new role because there is a fantastic opportunity to translate Xeikon's success from other market segments into the corrugated segment with the IDERA platform," said Osmundsen. "We are at the tipping point where digital can start to play a very significant role in corrugated and I believe I can contribute a great deal to Xeikon becoming a major player in the digital transformation of that segment based on my technical background in printing, my experience in the market and understanding of the varied needs of the customers that mix combined with Xeikon's capabilities, I hope will be a very powerful cocktail."
"Flint Group and Xeikon together have all the know-how to bring digital production to the corrugated market. "We are very excited to welcome Jens Henrik, who joins as we prepare to scale up the deployment of IDERA, a new digital solutions platform developed to make high-quality corrugated packaging production easy, adaptable and sustainable," said Daniel Velema, Xeikon's Vice President for corrugated and solutions services. "Jens Henrik will head up the sales efforts in EMEA. I'm sure our customers will benefit hugely from his deep knowledge and great understanding of new technology implementation for packaging."
This text is reproduced with kind permission of Xeikon Manufacturing, you can read the original article first published here.