"Video Killed The Radio Star", sang The Buggles in 1980 – but radio is still popular four decades later. "Digital brings print under pressure," is the lament in many quarters of the graphic arts industry – but this is not invariably the case. A typical example of how the new digital world can also boost the print industry is the monthly magazine "Streaming" launched a few weeks ago by the publishing house Ringier Axel Springer Schweiz (and printed, of course). It is a guide to keeping your head above water in the growing market of Netflix, Sky Show, Apple TV+, Amazon Prime Video and Disney+.
"Streaming" presents the best series, films and documentaries from the most important streaming platforms every month on 76 to 84 pages – supplemented with background reports, interviews and star portraits. True to the motto: "See what's worth watching."
Diving for pearls in the glossy magazine
"We see our glossy magazine as a pearl diver, intended to serve as a guide for readers overwhelmed by the many streaming offerings," says Editor-in-Chief Gion Stecher. At Ringier, he is also responsible for five classic TV magazines.
"As with classic TV magazines, we also make recommendations to users of non-linear offerings to help them find their way through the huge jungle of offerings. We transfer the digital world into a print form. Our readers can get an overview of the various streaming providers in the comfort of their sofa with a clear, compact and classy magazine."
Like a media library
Leafing through the diverse range of programs at leisure in a printed magazine that plays off the haptic advantages instead of laboriously zapping on the screen with the remote control is the one big advantage of "Streaming" – which in this respect is not much different from a classic TV magazine. However, according to Gion Stecher, the second advantage of the streaming magazine is exclusive: "While the next issue of our weekly "TELE" appears after just one week, 'Streaming' is available on the TV table for a month and is therefore something like a media library.
In addition to pure program notes, subscribers – the majority of whom are men, by the way – find additional content value in the form of numerous stories. "Our content architecture corresponds to that of classic magazines," says Gion Stecher. "However, we are the only ones in Switzerland to focus fully on streaming. We've broken new ground with this and are still figuring out exactly what our readers want."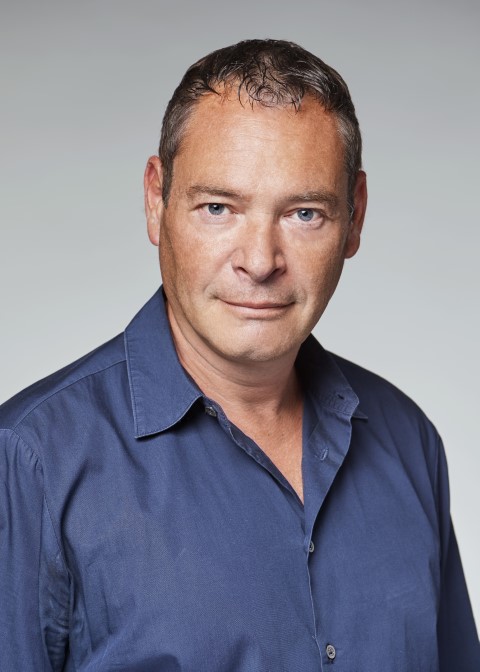 Editor-in-chief Gion Stecher: "'Streaming' is on the TV table for a month and is thus something like a media library."
E-mail newsletter as latest update
Included in the subscription price of "Streaming" – 49 francs (about 45 euros) for twelve home-delivered issues per year, Fr. 4.90 for the single issue at the newsstand – is an e-mail newsletter sent once a week. "Because for time reasons," says Gion Stecher, "it is sometimes not possible to bring all the relevant notices in the magazine – either because streaming providers postpone shows or reschedule them at short notice. That's why we bring most important updates in our online content under the motto 'by the way'. We occasionally include these as stories in the following print edition."
No mixing of journalism and advertising
Because "Streaming" is available during an entire month, has a high pick-up rate and a great utility value, Gion Stecher considers the new magazine interesting for advertisers. However, one looks in vain for paid editorial contributions from streaming providers. "We must and want to be independent. After all, our readers want quality. Mixing journalistic content and advertising would be dangerous."
Speaking of advertising, anyone who watched the Conference Finals in American football on Pro 7's Swiss window last January did not miss the "streaming" ads. "We rely," says Gion Stecher, "on a colorful bouquet of advertising forms: advertising pillars, spots on linear television, social media. Word-of-mouth is also particularly important, when satisfied subscribers recommend us to friends."
"What can they recommend to me today?"
"Pearl diver" is one image Gion Stecher uses for the latest innovation from Ringier Axel Springer Switzerland – "menu card" is the other. "After all, you don't always eat schnitzel with fries in a restaurant, but ask the chef: 'What can you recommend for me today?'"
The target audience for "streaming" is 35- to 65-year-olds. "Younger ones – I see this with my 18-year-old godson – are harder to reach. For one thing, they're not very print-savvy, and for another, they don't want to pay for content," says Gion Stecher.
This is a phenomenon that Gion Stecher also observes with classic TV magazines: "Their importance is still quite high. It's true that the importance of linear television is declining, and the readership of TV magazines – as with many other print products – is getting older. But they are prepared to pay for a valuable guide. Among the younger generation, however, there is more of a freebie mentality."
Launch during lockdown was a coincidence
To be sure, Netflix & Co. are generally considered winners of the corona pandemic, because people around the world can no longer go out and therefore sit in front of the TV longer. However, the fact that "Streaming" was launched in the middle of the second lockdown is a coincidence, according to Gion Stecher. "We wanted to launch the magazine as early as spring 2020, but then postponed it because of the corona crisis and developed it further during the following months."
To be sure, even the savvy connoisseur of the TV scene is convinced "that streaming has gained in importance during the pandemic. But nonlinear TV has been popular since before corona, and the increase isn't massive. To that extent, corona has no bearing on the success or failure of our magazine."
"Seriously, a TV magazine for Netflix?"
If the launch of "Streaming" during the corona pandemic was coincidental, so was the near coincidence with the launch of a magazine of the same name in Germany. This is published by the Funke Mediengruppe, appears quarterly – and even found an appreciative echo in the renowned German weekly "Zeit."
"Seriously, a TV guide for Netflix?" it admittedly titled its story about the new program guide for streaming portals. "That's not as absurd as it seems at first glance," author Johannes Schneider put the provocative question mark headline into perspective right away in his article, however.
Where he is right, he is right.
This text is reproduced with kind permission of Muller Martini, you can read the original article first published here.