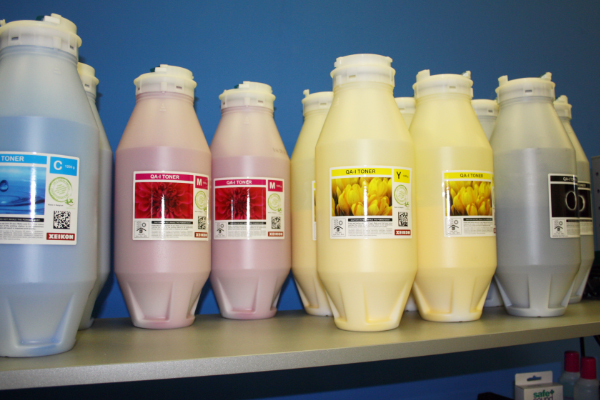 Xeikon has developed a food safe toner that can be used without barrier protection on paper based flexible packaging.
Xeikon is taking aim at flexible packaging with a new toner technology that is able to print on paper substrates as brands shift from films to more easily recyclable materials.
The new Titon toner eliminates the need for post print lamination, but it also needs a new print and fusing technology, hence the introduction of the CX500T, a new press using the same 508mm print engine as the Cheetah single-side press series. This has been used for label and producing pouches.
The new press and toner are aimed squarely at paper applications that have typically been printed on flexo presses. The secret is the toner, which is judged food safe under prevailing regulations, including the newly introduced German ordinance.
The toner is also entirely odourless and tasteless and offers "excellent resistance to scuffing and scratching, water, sunlight, high temperatures and a large set of liquid chemicals, without any type of protective layers such as varnishing or lamination".
Applications include single-side coated papers used in bags, pouches and sachets or on both sides for wrappings around baked goods, confectionery, sugar, flour, herbs and spices, coffee and tea.
The announcement comes as the sector wants to migrate from papers laminated around a plastic barrier film to dispersible coatings that have the same impact but which can be recycled after use.
"The flexible packaging market is moving towards more sustainable paper based solutions in response to strong consumer demand for plastic-free alternatives," says Frank Jacobs, market intel & senior product manager. "With the Titon technology, Xeikon is offering a sustainable solution for an unexplored and wider variety of applications to fully support brand owners, designers and printers wishing to increase their use of paper based packaging for food products. It is a roundbreaking solution."
The approach will receive a first outing at the Xeikon cafe at the end of April which takes place on the same dates as Labelexpo planned to fill before its cancellation last month. At the event it will be printing food sachets alongside other toner and inkjet presses running labels and packaging applications.
A beta site will then begin putting the press and toner through a testing trial regime.
Xeikon will not be showing the Idera inkjet press for corrugated sheet printing. This is at a US beta site in a six-colour configuration and delivering samples for benchmarking. A first European customer is close. "And there is a healthy pipeline of orders for 2022".
This text is reproduced with kind permission of Print Business Magazine, you can read the original article first published here.