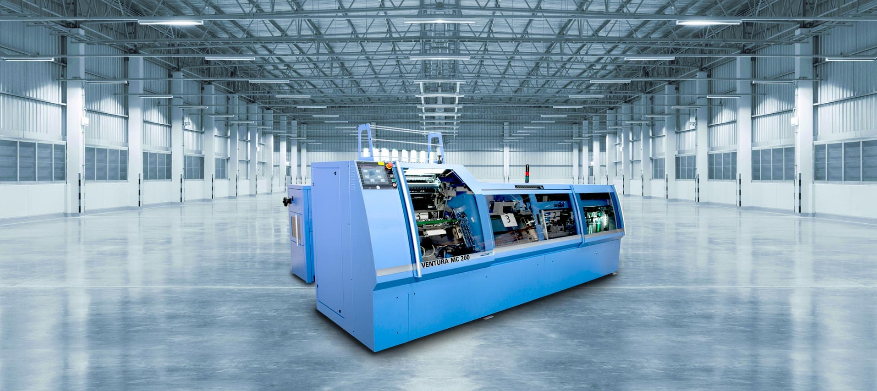 Hungarian printer Central Dabasi Nyomda Zrt. in Dabas is further expanding its capacity in book sewing with a Ventura MC 200 from Muller Martini.

With the slogan "We Print Books", Central Dabasi Nyomda Zrt. sums up its orientation in just three words. Everything in the company revolves around the production of high-quality books. The beginnings date back to 1972 – as a state-owned company, it was responsible for the production of school textbooks at that time.

After the political change in Hungary, the company was privatized, and since 2018 the business has belonged to Central Group Media Holding. An ambitious investment program has set the company on a continuous growth path. Today, the company already achieves an export share of over 25 per cent.

Central Dabasi Nyomda and Muller Martini have a long-standing partnership, especially in the area of softcover and hardcover production. This includes two perfect binding lines from the Acoro series, a Diamant hardcover system and three book sewing machines from Muller Martini.

The availability of the oldest book sewing machine could only be maintained through high repair and maintenance costs, which was no longer economically viable in the long run. Especially since the new solutions from the Ventura series from Muller Martini reduce set-up times to a minimum. And in combination with the higher running performance, the company will benefit from significantly higher productivity in the future.

With this in mind, Central Dabasi Nyomda has opted for the Ventura MC 200, which achieves a maximum production output of 200 cycles per minute. The book sewing machine enables the efficient production of books in both single and multiple-up production, and this in a format range from 120 to 510 mm. Many settings can be saved for specific jobs, which means that jobs can be reproduced almost at the touch of a button. The two-part book saddle, servo-controlled positioning of the sheets and thread loop formation with blown air are highlights that will ensure that Central Dabasi Nyomda can economically produce book blocks of the highest quality in the future.
This text is reproduced with kind permission of Müller Martini, you can read the original article first published here