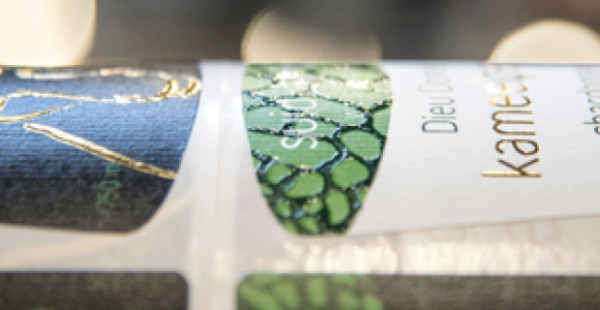 ADDING VALUE TO LABELS & PACKAGING
The official dictionary meaning of 'to embellish' is 'to make something more attractive by the addition of decorative details or features'.
DIGITAL INNOVATOR
Brand owners looking to use embellishments to add value to labels and packaging are now able to take advantage of the latest digital technologies to achieve unusual and unique effects. With consumers' preferences and purchasing behaviours continuing to evolve, many are far more discerning in their choice of products and brands. Add to that the significant rise in online ordering and this means added pressure on the whole supply chain.
Printers and converters working in the labels and packaging sectors are continually searching for new technologies and equipment to enable them to meet the high demands of the brand owners and their designers wanting sophisticated and unique embellishments and a high quality attractive finish. When it comes to digital embellishment and added value applications, Xeikon is the digital innovator to turn to. Their suite of support services includes their online advisory hub Transform where printers and converters can talk with specialists on how to make the most of the added value opportunities of digital embellishment.
CUSTOMER EXPERIENCE
Current surveys report that brand owners who study the habits and preferences of their audience are most likely to succeed. When they know and understand their target audience and focus on the consumer experience, they can differentiate their products accordingly. Current statistics tell us that 73% of consumers state 'customer experience' as an important factor in their purchasing decisions – and a common theory is that embellishments on labels and packaging actually engage with the consumer through an emotional connection – through memories, structural design, tactility, colour and unique creative appearance.
DIGITAL LABEL PRESSES
Xeikon's new Panther 2.0 series of UV inkjet digital label presses offers the opportunity for multiple different label applications providing durability and a high gloss finish. Xeikon's new Cheetah 2.0 series of dry toner presses offers high levels of colour consistency and accredited food safety. For fully automated and immediate quality colour controls, Xeikon recently launched its XCS Pro 2.0 specialist, cloud-based colour management toolbox. All Xeikon equipment is driven by the powerful Xeikon X-800 digital front end and the workflow integration built around the X-800 ultimately provides printers and converters with all they need to move towards total digital label print manufacturing which includes embellishments in the finishing process.
MODULAR LABEL CONVERTING UNITS
In October 2021 and in response to the market trends for automation, creative innovation and embellishment, Xeikon launched its new series of modular Label Converting Units with full cloud connection and integration. The LCU33 and LCU350 connect and communicate with Xeikon's digital label presses, the Panther PX2200 and PX3300 also the Cheetah CX500 and CX50. All Xeikon presses are equipped with man/machine and machine/machine interfaces for efficiency and maximum OEE.

For converters looking to efficiently manage their finishing processes both inline and offline, Xeikon's LCU series offers:
lamination
die-cutting
slitting
winding
hot foiling
screen printing
and varnishing stations for spot varnish.
The beauty of these latest developments from Xeikon is that all processes are now connected from file to finish including high quality, unique digital embellishment and that means – added value for everyone in the supply chain.
This text is reproduced with kind permission of Xeikon Manufacturing, you can read the original article first published here.