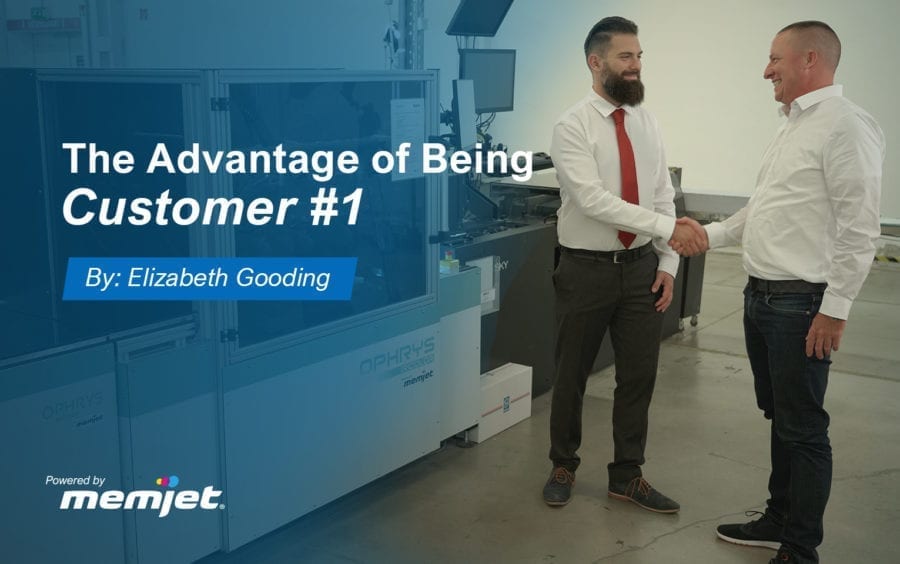 By: Elizabeth Gooding, President at Inkjet Insight
The pace of inkjet R & D has accelerated over the past few years with new technology conquering more substrates, entering new markets and driving quality to new heights. For each of these releases there is a first customer. Often that customer is on board long before the product makes it to market. Considering that not all products even make it to market why would a printing business want to take a risk on unproven technology?
I've had the opportunity to speak with many technology leaders using inkjet in quality-sensitive operations about their experience as pre-release adopters of production inkjet presses. Some of these companies dipped their toes in the inkjet pool as far back as the late 1990's while others purchased their first inkjet press within the past two years. In each case, the company was looking for some combination of quality, flexibility, media compatibility, productivity or price that was not commercially available at the time. Sometimes they are looking to dramatically change their workflow.
The latter is the case for EPDB Printing Center Ltd. (EPDB Zrt). Producing an average of 18 million shipments with 35 million sheets monthly, EPDB Zrt has the largest mail production capacity in Hungary. The company had successfully transitioned from toner to inkjet back in 2016, but there was one major part of the process that did not make the transition to in-line production – the mailing envelopes.
Their CEO, Gergely Molnar determined that they needed to "take a deep breath" and tackle transformation of this major component of the process. To achieve this, the company partnered with Varioprinting to become the beta site for the Ophrys Iricolor inline overprinter which is Powered by Memjet's DuraLink printing technology. With this technology, EPDB can convert their end-to-end production to white paper from offset. They plan to completely remove preprinted envelopes from their workflow within the year. "With this development, we can lower our production costs with more flexible and faster adaptability, and provide an innovative marketing interface on a well-established medium," said Molnar. "Even if we print only static graphics based on the code placed in the window with the recipient address, we immediately eliminate the lengthy and expensive envelope changing process. We also started pilot projects with a small datamatrix window, which assigns the corresponding printout and variable data from a database to the envelope, and we print all the static graphics and addressing together."
While Varioprinting went from signing an agreement to production installation in 6 months, not all beta projects turn out as successfully as this one. The modular nature of Memjet technology speeds up development time and lowers risks for their OEM partners. "Being the first always comes with risks, but it also gives market advantages." Molnar advises. "In the beginning, we used significant resources for migrating to the new workflow, but as we move forward and putting more and more jobs on the new printers, the whole process gets easier every day."
Companies I have spoken to are consistent in their claims that being a beta site was beneficial in several ways: access to new capabilities, building a stronger relationship with the OEM and prestige with print-buying customers.
Many print providers want to be the first to deliver new capabilities to their customers and to develop an influential relationship with their OEM, but not every company is cut out to be an alpha or beta site.
Molnar notes that there is a natural resistance to change. In this case, it is a total paradigm shift. "Instead of preprinted envelopes, we have huge flexibility, but it comes with a machine that has to be adopted in daily work," said Molinar. "Change is hard work, but I believe it is worth the effort." EPDB can now offer their customers full-color, high-resolution, personalized envelopes with the quality, and durability required by direct mailers.
Should your company consider being a beta site for the next great technology coming to market? Molnar believes, "In the 21st Century, there are fascinating new developments on the market. If you want to be a market leader, you have to evaluate them frequently. When you see something which seems to be affordable and reliable, you should go for it. Plan your investments wisely, but the risk of getting behind is bigger than the risk of change." Being customer number one has advantages that last well beyond the successful installation.
To see if you're a good fit for one of our partners' new Powered by Memjet print solutions, contact us.
About the Author: Elizabeth has a rare ability to see design related issues from many perspectives. She has managed creative teams on complex design projects, selected outsourcers for major brands and helped print organizations to retool operations, focus their market positioning and educate sales teams to accelerate growth. At Inkjet Insight.com, Elizabeth works with a team of top analysts to translate those experiences into tools, data and content to help print organizations evaluate the potential of inkjet, optimize their operations, work effectively with designers and grow pages profitably. She is also founding member of the Inkjet Summit advisory board and a curious consultant constantly seeking innovative ways to help designers and printers hone their craft and drive new pages onto inkjet presses.
This text is reproduced with kind permission of Inkjet Insights, you can read the original article first published here.