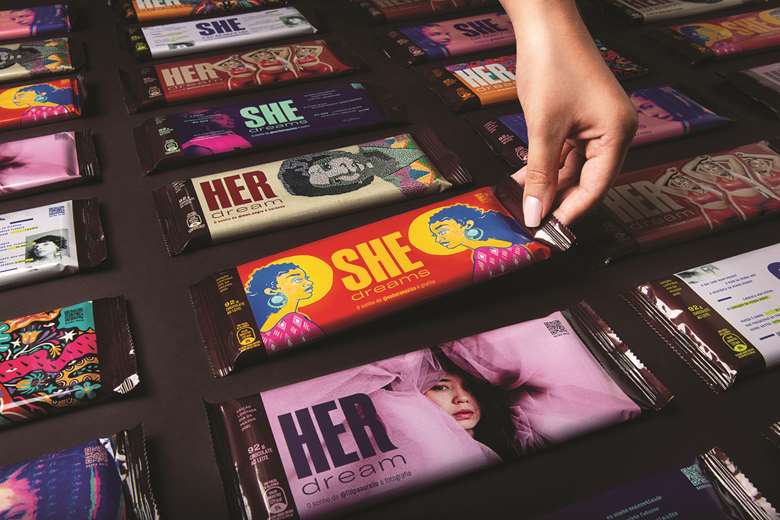 Brands big and small are beginning to wake up to the power of digitally printed packaging but they have yet to understand the full package, and that represents an opportunity for print service providers.
Packaging is becoming one of the most effective channels for advertising, unlocking a demand for digital printing that is, in turn, forming stronger connections between brands and customers.
Recent findings from the World Advertising Research Center (WARC) put this growth opportunity into concrete terms. WARC has been publishing research on the effectiveness of digitally printed packaging as a marketing strategy for many years. In association with HP, WARC carried out an in-depth analysis of successful case studies that used packaging as lead media.
The WARC research shows that packaging is the second most effective media channel (just after videos) but only 5% of brands consider packaging as a growth enabler. This said, the remaining 95% are unaware or resistant to embrace the opportunity thinking that digital printing is way too expensive. Until recently, brands have not been able to exploit this channel because of the operational challenges that controlling and managing the supply chain presents.
As leaders in digital printing, HP has helped hundreds of brands and printing providers enter new markets and win in uncontested spaces, from high-value labels to flexible packaging.
Now, the quantitative data validated through the WARC research shows how HP's digitally printed packaging can be a salient brand accelerator touchpoint. When discussing how these innovations can drive brand innovation, David Tiltman, the VP of Content at WARC says: "Digital print means that short printing runs – which used to be cost-prohibitive – are now within reach for more brands. That opens up packaging as a creative outlet for personalised or customised messages."
The Power of Packaging
Packaging is ad space. This simple realisation is changing the way brands think of packaging as part of their marketing strategy. Today brand experiences transcend place and platform – a brand is not just a quippy Twitter account nor is it just a bright red package sitting on a shelf. To create a single, cohesive brand experience, the physical and digital presence of a brand need to be seamlessly integrated.
Innovation in digital print packaging technology is pushing this cohesion; the in-store experience can now align with other channels in the marketing mix, both online and offline. Now brands of all sizes can deliver personalised, customised messaging that can complement social media strategies and mirror a brand's digital presence.
In short, digitally-printed packaging turns shelf space into a new channel for marketers to deliver campaign messages and drive ROI, allows for a flexible approach based on individual markets, increases the speed at which brands can test new packaging, allows brands to have more physical and digital cohesion, empowers brands to co-create content at scale that maximises engagement with Millennials & Gen Z and provides opportunities for longer-term brand-building through personalised and contextual variations in the packaging of products.
Effectiveness and amplification
Packaging can be the first touchpoint a consumer has with a brand and up to 70% of consumers are impulse buyers who grab products that appeal to them on the shelf. Given this, it is vital to invest in packaging and enhance the in-store experience.
When brands use packaging as lead media, there is a genuine link to marketing effectiveness, with a further upswing in hard metrics including sales, market penetration and revenue, when digital printing is utilised.
How can digitally printed packaging enhance the customer experience and deepen their connection with the brand? Firstly, it can create a sense of exclusivity. Digital printing means that it is easier and more affordable than ever to produce limited edition packaging that can drive desirability.
If delivered in the right way, these limited editions hold a special place in culture and can become a collectible for customers that they hold on to long after the campaign comes to an end.
One example of this is the Faces of the City campaign Coca-Cola launched in China that used variable printing on limited edition cans to highlight 23 cites across the country with an augmented reality game triggered by scanning the can. Each can sold at a 30% premium to the standard price and even so there was a 226% increase in sales. Second, digital printing means brands can make packages personalised and customised without disrupting their printing process.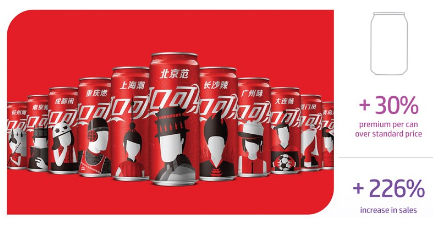 According to WARC, 53% of Gen Z want brands to offer personalised or customised products. Personalised packaging can become a vehicle for consumers to express themselves or their preferences and allows consumers to select the packaging that speaks to them individually.
Overall, digital packaging in the media mix amplifies the impact of other channels while reducing the pressure to invest more in mass media channels due to the increase in earned media reach (virality) that personalisation and co-creation generate. A product's packaging is often the first interaction a consumer has with a package goods brand. In many cases, the packaging helps to reinforce key brand messages communicated through other channels.
Digital printing is being used to elevate brands through storytelling and co-creation
With digital printing, brands can now use their packages as a platform for storytelling. The customisation and adaptability of digital printing means that packages can now convey stories that are more relevant to specific audiences. These stories have the ability to truly connect the brand's ethos with customers when delivered in a sincere way – emotion is used by 41% of successful cases that lead with digital printing, significantly over-indexing against the average.
"The power of great packaging is not having to explain any of the details. It is love at first sight – the consumer is drawn to the [packaging] in seconds. The packaging is a storytelling device that should convey a compelling message and differentiate the product from the competition," said Kristi Schroeder, brand design & packaging director, Kimberly-Clark.
Digitally printed packaging also allows brands to create distinctive, interactive, and shareable experiences that can directly involve the consumer in the packaging design process which amplifies the potential for social sharing. This means that brands can now tell stories with consumers, not just to them.
Packaging can be more than a vehicle for individual stories. Some brands are using packaging as the basis for purpose-driven campaigns to highlight the social issues that are growing drivers of consumer purchase decisions. Packages printed with purpose appeal to people and make consumers feel not just aligned with a brand but as though the brand is listening to and catering to their wants and needs.
Hershey's provides an example of packaging being the centre of a purpose-driven campaign to drive gender equality with the younger generations of women. In 2020 and 2021, Hershey's launched a customised packaging campaign for International Women's Day in Brazil and India. The brand invited female artists to showcase their work to create a "living canvas" on the chocolate's packaging which Hershey's printed on the limited-edition wrappers.
The sense of exclusivity led to the bars selling out within just a few days, illustrating how varying packaging can directly link to hard metrics, such as sales. The results are impressive:
Sales increase 640%
Brazil 2020 30m earned impressions
India 50m earned impressions
Brazil 2021 50m earned impressions
Beyond the deep connection that can be achieved with storytelling, the adaptability offered by digitally printed packaging gives brands an efficient way to test the market prior to brand launch. Before investing in a full redesign or relaunch, brands can query a smaller proportion of the market, using feedback to adjust the brand experience in response to customer sentiment.
To summarise, storytelling is a powerful tool for brands to engage customers and now that digital printing has made packaging a more versatile canvas, even the smallest package can be a vehicle for a big and impactful story.
Along with storytelling, what can bring customers back is the 'extra factor'. Packaging, and the role it can have in delivering an experience that speaks to individual customers, is well-placed to provide that something 'extra'.
One such example is Nescafé's campaigns Resolutions and Tribute, which have run successfully for 5 years. These have become a benchmark in the industry as proof of long-term brand success and adoption of a relatively new technology like digital printing.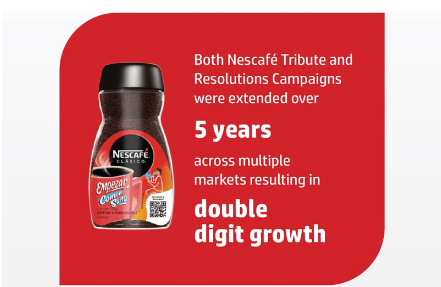 To wrap up
The research shows that packaging can be an ad, a story, a platform, a strategy, and a huge driver of sales and positive sentiment. With HP Indigo, print providers can bring innovative packaging solutions to life for brands big and small. Packaging is not just a wise investment as part of a brand's marketing strategy, it is a place to reduce waste, be more inclusive, be more adaptable, and push the marketing industry forward as a whole. All you have to do is print.
To further unpack the research with brands, get the full report and resources to communicate with brands about this breakthrough research.
This text is reproduced with kind permission of Print Week, you can read the original article first published here.