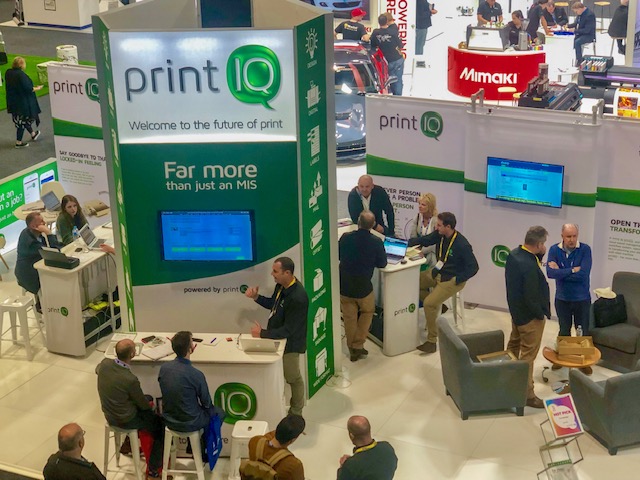 The supplier has come to the UK to build on success in Australia and the US with an approach that is based on the cloud, APIs and rapid development.
When is an MIS not a Management Information System? When it is a Management Workflow System. Just what this looks like is open to debate and where it crosses over into production workflow or enterprise management system is equally debatable: the borders between the tools are permeable.
This is a far cry from the first days of MIS. The task then was straightforward: to estimate a price based on a printer's known costs, the cost of materials and the time taken to complete a job and the required margin. MIS helped an estimator generate better quotes and more of them.
The next phase of MIS development was stock control and into scheduling, directing a job to the most appropriate production path according to the parameters for a job. The Job Definition Format enabled the MIS to create a job ticket that could be understood by the production workflow, delivering a JMF file back so that the estimate could be compared with the reality.
That has enabled countless printers to cope with tighter margins, by identifying bottlenecks and producing more accurate pricing; to cope with an increased number of jobs; to become more efficient by ganging jobs on one sheet and by batching jobs that use the same papers together to minimise adjustments needed on press.
Now these traditional MIS suppliers themselves face a key question, whether they migrate to the cloud or remain server based. It is reminiscent of the great switch from MS-DOS and CP/M operating systems to MS Windows during the 1980s. At that point the level of complexity was minimal, and the transition was relatively simple. Today the arguments are more complex, to do with data security and speed of response on the one hand, ease of support and upgrades on the other.
It has also spawned a new generation of developers able to create software that resides in the cloud, that is modular in approach and that takes advantage of API technology to integrate with technology well beyond equipment that is part of the JDF universe and into third-party applications that help printers manage not only their businesses, their workflows and collaboration with customers and suppliers, perhaps sitting at the heart of a hands-off workflow from web to print to courier company. This is a long way from generating a simple estimate.
The Australian and New Zealand technology company PrintIQ has walked into this febrile environment with an approach based entirely on the cloud, on open interfaces, on remote access and rapid modular development with integration based on APIs. It quickly expanded throughout New Zealand and Australia and has moved into North America and now into the UK.
"We never officially launched in the UK," says product director Mick Rowan. "We had planned a launch at Drupa last year, as an introduction to European markets." That of course never happened. The company appointed Paul Bromley as sales manager EMEA joining a local team of product specialists. In the past year PrintIQ has picked up 21 UK customers, headed by the likes of Halstan Press and Bishops Printers.
It is already the dominant company in its homelands and is growing fast in the US where printIQ enjoyed what Rowan calls "our best year to date".
At the start of 2020 it was not entirely unknown to UK printers. PrintIQ has taken part in DScoop events where it could meet UK businesses and others have connections with printers that are already using PrintIQ.
"Coming to the UK is not purely about the UK. It is in the long run a stepping stone to all of Europe," Rowan explains. "We have a good conversion rate when we get to speak to people. But they need to know about us first. We find that UK companies are leaner and sharper at making decisions. It seems they are far quicker to reach a decision than in other countries." That should increase even further as momentum builds and printIQ is less of an unknown quantity. Bromley has been active, with PrintIQ global sales manager Adrian Fleming praising his "tenacious approach", adding: "We are in a great position to continue that growth with UK staff on the ground providing local support, together with the power of the global network in multiple time zones to back them up."
Rowan identifies the competition as Tharstern, Accura, Optimus, and EFI in the UK, with Avanti, EFI and a host of home grown legacy applications in the US.
"UK suppliers are very much providers of MIS technology. We are a management workflow system, managing a business from the upload of an artwork file to invoices and delivery of the job – straight out of the box," he says.
Along the way there are links to third party applications from Vpress and Infigo, to OnPrintShop and XMPie for variable data, into Enfocus Switch, Esko, Tilia Labs and countless more. "There are lots of tools we can build upon, to preflight, proof and direct a job to a DFE and then to a courier company," he adds. "All the data floating around that is associated with a job and its progress can be captured, harnessed and used to deliver all manner of reports that can be presented in different styles and tailored to specific purposes, including sending these automatically to members of the team who are working remotely."
The system starts with eight core modules: quote intelligence, payment gateway, workflow manager, factory manager, inventory manager, outsource manager, shipping manager, and job track. The system does not stop here. The PrintIQ Core is enhanced by a range of modules that build on this functionality and allows users to build a bespoke system to suit their individual business needs. Rowan explains: "Printers that are expanding into other business sectors do not need to add an extra MIS, because PrintIQ comes complete with all segments straight out of the box. Users can then add the additional modules to tailor their system to suit their specific business requirements. The question printers should ask is whether their legacy system can do this."
Roll out of an implementation is impressively quick. Even during Covid, Rowan says that PrintIQ was able to have some systems implemented in under 12 weeks, thanks a strong project management process and communication about what is expected from all sides. This is very much a 'secret sauce' and reduces the fear that companies have regarding the disruption when moving from one MIS to another. The simple to follow interface cuts the training requirement and allows inexperienced staff to get to grips with the software without the deep technical knowledge that may be necessary on a legacy MIS.
The customer can also deliver feedback and make requests to the development team via the "Request for Customisation" process. Once a request is made it is accessed by the product and development teams, a scope is produced and costed, and if approved by the customer the development will be booked into a future release. Rowan says: "I see the RFC process as one of the unique differences between PrintIQ and the competition. We really listen to our customers and take their feedback seriously. After all they are at the coalface and deal with real-world problems on a regular basis. Tapping into this rich vein of information, allows us to deliver a system that far exceeds expectations."
There are links out to accounting packages like Xero or QuickBooks, that neither require creation of an intermediate spreadsheet nor for an operator to switch out of the PrintIQ. There are expanding integrations with Infigo, OnPrintShop, Vpress and XMPie as variable data printing increases in importance and with 3D rendering software as the packaging and labels industry becomes more and more important.
Bromley says: "The list of options is as lengthy as it is impressive and includes fully integrated third party options encompassing: VDP, file verification, ganging and sheet optimisation, prepress systems, web applications with API capability, and even other printers. PrintIQ is able to meet the needs of designers, digital printers, label printers, offset printers, packaging printers, as well as signage and large format printers.
"We are also able to link directly into web to print front ends like Vpress, or the likes of Magneto so that orders flow directly into the workflow without any need for double entry that can be needed on some other systems. PrintIQ is a management workflow system rather than an MIS. It's an ecosystem where everybody involved in print can be part of it."  
This text is reproduced with kind permission of Print Business Magazine, you can read the original article first published here