This text is reproduced with kind permission of Print Business Magazine, you can read the original article first published here.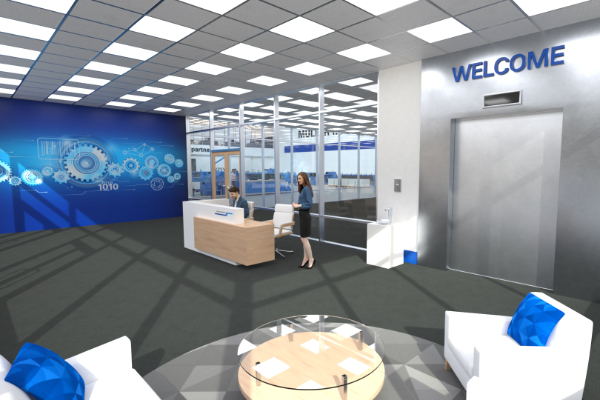 The latest attempt to engage printers with online presentations and shows begins today as the online printing exhibition gets underwas at the VEC – Virtual Exhibition Centre.
The virtual doors open today on Printing Expo, an online only event designed to replace Drupa, or at least provide a way for suppliers to demonstrate equipment to potential customers, for potential customers to view demonstrations on demand and for suppliers to acquire details of those that might be interested.
It is much like any other exhibition, says Wayne Beckett, director of Resolve Business Management, the company behind the concept. This has been to give those visiting via their browsers as close to a real life event as possible. A supplier's presence is determined by how much stand space he takes, and equipment to be shown has to fit in that virtual space. It is much like any other exhibition.
That is perhaps where the likeness ends. There are no other visitors on the floor and no one to converse with. Nor is there a final day, and as the site is open 24/7 every day of the year. This dents the excitement of being the first to see a new technology and the pressure to get around everything before the show magically dissolves for a further four years.
This is noted in how exhibitors will approach the potential of the event. The anchor exhibitors, at least in Zone 1, are Muller Martini and HP Indigo. The former has created a two level stand with points to pick up, or download literature, to register for a demonstration and to look closely at the CGI version of stitching and binding lines.
These have been rendered in detail, catching the way that light might glint off a logo, for example. And it this that has taken time to implement. Beckett had hoped to get the show up and running by the time Drupa should have taken place, then by the start of September, then the start of November.
A conference hall includes registration desk, coffee point, numbered seats and stage. As yet there is no timetable for presentations and seminars that it is hoped to roll out in coming weeks and months.
The second anchor exhibitor HP Indigo has created a virtual pouch factory, again creating in virtual reality a detailed render of press and finishing equipment. Like Muller Martini, this is more likely to be used by Indigo sales staff to show potential customers a close up view of what is being discussed.
It is in short a series of showrooms rather than a vibrant jostling exhibition, much as Bluewater is a shopping centre and not a buzzing North African souk.