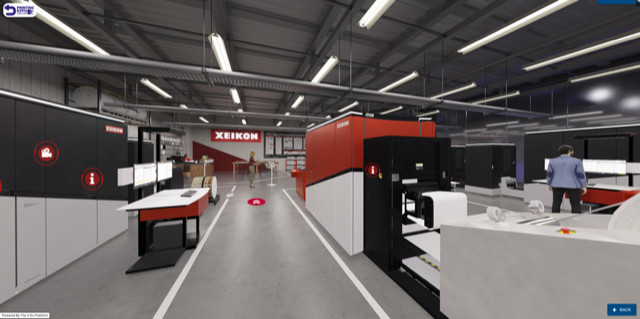 Following the success of their Wall Deco showroom, Xeikon have opened an additional showroom for Graphic Arts, featuring three presses: the SX30000, CX500 and the SX20000 as well as displaying the Xeikon X-800 workflow and the Xeikon Solutions & Services (XSS).
Dimitri Van Gaever, Xeikon's Market Segment Director – Graphic Arts, said "It's been great working with the team again at Printing Expo Online to produce this Graphic Arts showroom. Xeikon has been impressed with their ongoing marketing and promotion of the Wall Deco showroom that we opened with them over a year ago and it made sense to add another asset to show visiting PSPs the new and proven options from Xeikon for the Digital Commercial sector and book production segment. "
The SX20000 is the newest addition to the Xeikon family of duplex presses, built on the ground-breaking SIRIUS platform and delivering a series of unique benefits and is the all-round performer in high-quality digital printing.
The SX20000 is the second duplex press to enter the market, based on Xeikon's SIRIUS dry toner technology. It presents an excellent value proposition for printers looking for a cost-effective machine that will give them superior image quality, perfect registration front to back and exceptional colour quality control. With a high level of application flexibility, this versatile press will suit printers who specialise in high-quality books and direct mail, retail signage, security print and general commercial print applications.
The SX30000 is the new benchmark for Graphic Arts applications and is a new, ground-breaking press, again built on Xeikon's revolutionary SIRIUS technology. It's designed to be the corner stone of a profitable printing business delivering a series of unique benefits.
"With the SX30000, Xeikon is first and foremost aiming at high value applications, usually featuring high coverage colour content on high-quality papers combined with superior quality requirements. "This can be in the book printing segment or high-quality direct mail, but because of the versatility of the technology, it might also be in retail and signage materials, security printing and other general commercial print. Furthermore, we are looking at customers who need higher productivity combined with lower running cost and a compelling overall TCO", said Dimitri.
The Xeikon CX500 digital press on display covers a wide range of applications (labels, cartons, paper cups, wall decoration…) in a roll-to-roll or roll-to-sheet configuration. The print quality matches offset and flexo and the toners are odourless and sunlight, water, and migration (food safe) resistant. This solution is connected to the cloud and has both a human-machine and machine-machine interface. The advanced workflow will prepare you for digital printing, including unique digital applications like full colour variable data printing.
Also shown is Xeikon's X-800 Workflow solution. The latest generation of the Xeikon X-800 Digital Front-End is the result of continuous improvement and innovation, based on direct feedback from Xeikon's most demanding customers. With the X-800, you can accept various file formats and tackle demanding variable data print jobs at rated engine speeds. The X-800 is based on open standards and is intuitive to operate, enabling you to implement a flexible and fully automated workflow in any production environment. As it's a modular machine, it seamlessly integrates with your existing equipment while its scalability allows for high-end variable data production.
Xeikon Solutions & Services (XSS) and Xeikon Performance Services is also being displayed. Xeikon Colour Services are created to optimise digital colour solutions and excel in colour production and reproduction but at the end, colour management translates into more value for your production. The Xeikon Performance Services are a set of tools and services to collect data from your Xeikon presses but also other data from the shop floor.
Wayne Becket, Event Director of Printing Expo Online said "It's fantastic to see Xeikon growing their presence at Printing Expo Online. The whole company seems to understand the benefits of our global digital marketing platform and their Wall Deco showroom has been used extensively by their sales teams around the world to show the advantages of using their print engines. The addition of the Graphic arts/Commercial showroom and the Label showroom that will go live next month, will give Xeikon even more opportunities to support their live events and to grow their global sales through their virtual activity. "
For more information, please contact:
Wayne Beckett – Event Director
Printing Expo Online
Email: wayne.beckett@printing-expo.online
Telephone: +44 (0) 7496 66063
www.printing-expo.online
Dimitri Van Gaever
Market Segment Director Graphic Arts
Flint Group Digital
Office: +32 3 443 18 42
Mobile: +32 493 400 371
email: dimitri.vangaever@flintgrp.com
www.xeikon.com