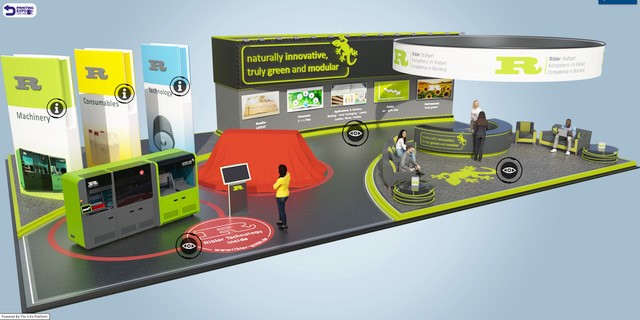 Ribler are displaying the GECKO 200 binding machine at Printing Expo Online, a new semi-automatic machine that can produce up to 200 hardcover books per hour plus another machine which is currently in development that is literally (and virtually) under wraps on the stand.
Ribler GmbH, based in Stuttgart – Germany, has developed from an office machine dealer into a pioneer for perfect binding equipment.
The GECKO 200 produces hard covers in a single pass with ecologically valuable products plus genuine lay flat capability at significantly lower manufacturing costs due to Ribler's cold glue technology. The use of cold glue reduces material consumption by 80%. One litre of Ribler cold glue has a range of over 3,000 blocks, one litre of activator is sufficient for over 6,000 blocks. The cold glue also eliminates the need for fumes suction and heating of the entire gluing line; this reduces electricity costs by up to 80%.
The result of perfect binding on the GECKO 200 is true 180° layflat and thanks to the 6-stage Ribler technology, only a very thin layer of glue of approx. 100-150μm thickness is required. Despite this, best pull test values assure durability. Without dismantling the components, setup time consists only of machine start-up in one minute, format changes are made in seconds – the single-pass machine processing of hard covers has now become possible.
Ribler perfect binders are all based on the same platform, are modular and can be expanded at will. You get professional hardcover books (perfect binder) or notepads, tear-off calendars and forms (block binder) in one go – always in high quality and also ecologically valuable.
By using Ribler technology, the consumption of material, energy, CO2 and paper is significantly reduced. Active environmental protection and significantly higher efficiency are combined by the Ribler binders. The end products are suitable for the award of environmental seals, including the "Blue Angel" and the "EU Eco Label": Ribler is the only manufacturer of perfect binding machines with environmental awards.
George von Massenbach, Managing Director of Ribler GmbH said, "Printing Expo Online offers a good opportunity for greater exposure to a global audience by using the platform and the marketing opportunities that come with it across a large social media reach and e-shots to a large database of PSPs. We will also be launching a brand-new machine on the stand which you can see is covered for the moment but will be virtually revealed very soon along with collaboration on marketing this event with the team at Printing Expo Online."
Wayne Beckett, Event Director at Printing Expo Online commented, "It's great to have new companies joining the show all the time. Printing Expo Online has now been running for 2 years and people are starting to understand the benefits of a virtual show that is accessible 24/7 365 days a year from anywhere in the world. Ribler are a fantastic addition to the show – especially in the growing digital printing market – and we are looking forward to helping them grow their brand and product awareness over the next 12 months".
Printing Expo Online is now the largest virtual reality exhibition in the world and has welcomed visitors from almost every country on the planet. With over 70,000 registrations and a footprint that is growing all the time, Printing Expo Online is helping to bridge the gap between live events and has become a valuable resource tool for its visitors.
For more information please contact:
Wayne Beckett – Event Director
Printing Expo Online
Email: wayne.beckett@printing-expo.online
Phone: +44 (0) 7496 616063
George von Massenbach – Managing Director
Ribler Technology
Email: gm@ribler-gmbh.de
Phone: +49 711 723045