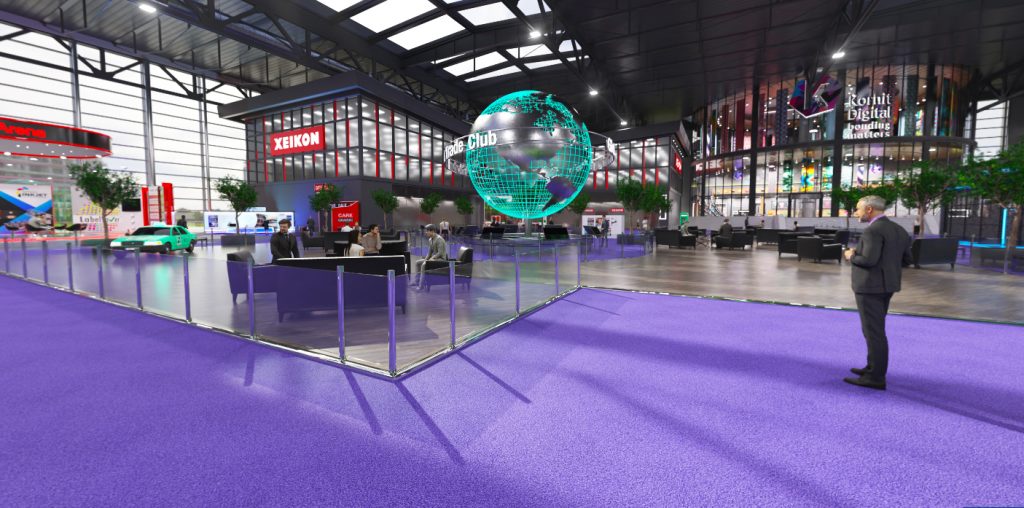 It's been 2 years (1st December 2020) since Printing Expo Online opened its virtual doors and they have not been closed since.
It's fair to say that a lot has happened since then. The first thing to mention is that Printing Expo Online has defied many people's predictions that the end of Covid 19 lockdowns and the fact that there have been some awful virtual events and the start of live events and exhibitions would mean the end of this 'virtual exhibition'.
In fact, the opposite has occurred, with new exhibitors continuing to on-board and existing exhibitors dramatically expanding their presence on the platform, new zones have also been added. Larger exhibitors that joined the virtual show at the start like HP Indigo and Müller Martini, based on the results they have received, have doubled their investment over the last 2 years and in Xeikon's case, have tripled their stand size to now have 3 fully interactive showrooms and an application centre. One recent exhibitor, Zaikio, has even chosen to go 'underground' into some atmospheric caverns to enhance their visitor experience.
The biggest indication of any show's success, virtual or otherwise, is obviously visitor numbers and Printing Expo Online's virtual footfall reflects its importance as visitor numbers have risen to over 70,000 people from almost every country on the planet. One demographic that is very encouraging is the age range of our visitors. In a market where we are trying to appeal to the younger person, Printing Expo Online is seeing that visitors aged between 24-35 account for almost 42% of the show's attendees.
Christopher Watson, Printing Expo Online's Content Director said, "Not only has the exhibition expanded, but Printing Expo Online is evolving into a global digital marketing platform offering more informative content in a relatable environment to print service providers. We actively promote all our exhibitors and their products and services to our expanding global database of PSPs as well as across our far-reaching social media platforms. This means that exhibitors in the show not only benefit from visitor traffic to their stands and showrooms enabling them to collect their data and statistics, but they also benefit from the global marketing exposure that we provide and include in their platform presence."
Christopher continued, "We will be opening our new Sustainability Zone very soon which we are very proud to say will be sponsored by Heidelberger Druckmaschinen AG and will contain a fantastic stand displaying one of their presses. HP will also be involved with their third impressive and very large stand featuring 20 wide format machines along with associated promotional material.
Our build and architecture team are often given free reign with design whilst working alongside a client's brief and what they come up with is truly amazing. They are not limited by health and safety restrictions or the laws of physics which allows them to create our client's marketing director's dream showroom which often would be impossible or too expensive to physically construct."
Wayne Beckett, Sales Director at Printing Expo Online said, "We know it's been a tough 2 years for everyone, and there have been a lot of changes to the way we work, I'd never had a zoom meeting until we launched but now it's what we do daily. It would seem that people are also starting to understand that virtual events like ours are not designed to replace live events. It's been great seeing forward thinking companies like HP Indigo showing their Printing Expo Online Virtual Digital Pouch Factory at shows like LabelExpo and Printing United where they didn't have a 25K press on their stand. We will certainly continue to visit shows, but it is a fact that not everyone is able to, or even wants to attend a live event. This can be because of several factors, time, cost, physically unable to travel and possibly for environmental reasons as well. Having a global reach has attracted and benefited many of our clients as we now offer a truly global audience".
When asked about the future for the platform Wayne said, "I see our community of PSPs around the world continuing to grow which will enable us to educate our visitors by promoting even more effectively our clients' services and products to a wider audience via the Printing Expo Online platform and extensive social media presence".
Printing Expo Online sees a real future in Meta Virtual Reality showrooms via VR headsets and see this as an exciting additional tool for sales teams. Sales teams around the world will have the opportunity to "meet" potential customers in an impressive virtual showroom environment be given a tour of presses and finishing equipment. This provides a unique and unprecedented method of pre-qualification of a client as well as saving costs and the environmental impact of the client travelling to a showroom.
VR showrooms can also be used at live events when it becomes logistically or financially impossible to take all the equipment to a show. As long as virtual events are of a high quality they will be here to stay and can benefit and act as a bridge between physical ones too.
As we like to say at Printing Expo Online; Don't let reality hold you back!"