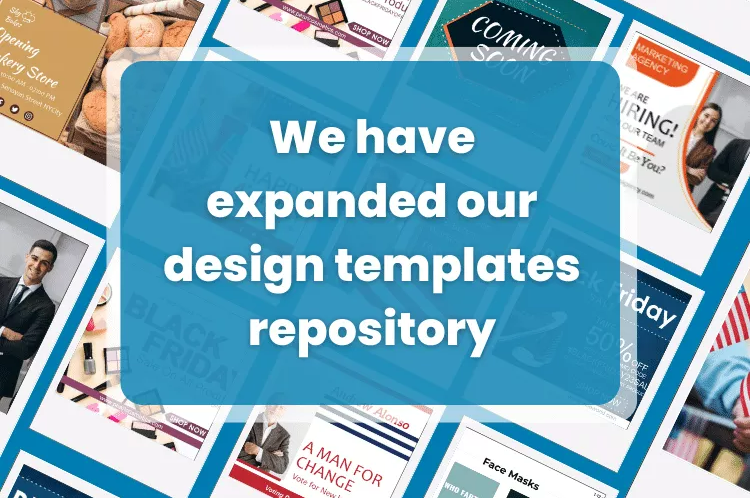 Design Templates are a major part of our Web-to-print solution as it helps our customers in providing quick designs to their clients and also get more orders.
Right from templates for quick designs to text ideas for content personalization, we provide end-to-end guidance for the end-users with our design templates.
But, with the constantly evolving print market and frequently changing design trends requires updated collection that matches and exceeds the expectations and requirements of the customers.
To keep our template collection relevant and to provide our customers with latest print designs, we have updated our template platform designriver.co with new and trending collection of labels and banners!
All there is to know about our new label templates:
Now get access to 50+ new label design templates that are designed keeping in mind the elite clientele and their latest industry trends. Right from labels for the beverage industry to the labels collection for healthcare domain, the collection is updated with the latest and informative labels.
These latest label templates can help businesses engage and inform their customers with meaningful information and the opportunity of creating a positive brand image with label personalization capabilities of our web-to-print solution.
On the other end, our print clients can provide the latest collection to their B2B customers, create an edge in the market with reduced turnaround time and also enjoy positive word of mouth and latest label design offerings for quick orders.
Banner Templates added to make our collection all comprehensive:
Right from banner for Black Friday to banners for hiring, new opening and others, we have made our collection of banner a place where each business can get engaging and quick designs that can help them make their business branding better and attractive.
Apart from banners that can be used by majority of clients, we have also created industry specific banner that can help businesses of certain industries such as political parties, real-estate businesses, sports equipments businesses and other such businesses in getting trendy and personalized banner designs for their businesses.
Enabling personalization with Text Ideas:
To make our design templates personalized and business-friendly, customers can now get amazing text ideas that can help them create industry-specific content for their labels, banners or any other form of print media.
Keeping in mind the increasing significance of personalization and to help businesses standout with witty copies, we have integrated and updated our template platform with text ideas.
Get a competitive edge with personalized designs and quick turnaround time:
For those businesses such `2 as real-estate, entertainment and others that has a huge branding budget and a need to create content constantly on a large scale, our template designs are designed just for them.
Especially for businesses that face huge competition in the market when it comes to outdoor branding, having personalized content along with an attractive design is all that you need to create a competitive edge in the market.
On the other hand, print businesses not only get a feasible way to deliver quick design solutions with these template, they can also get the much needed positive word of mouth from their customers and also the possibility to earn a loyal customer that gives repeat business.
To sum it all up, while the customers get latest and personalized design templates, print businesses get increased engagement, lead generation and positive branding!
Do you want all these for your business? Head out to designriver.co and checkout our latest collection of templates today! To get on demand template contact our team at inquiry@marketing_5
This text is reproduced with kind permission of Design'N'Buy, you can read the original article first published here