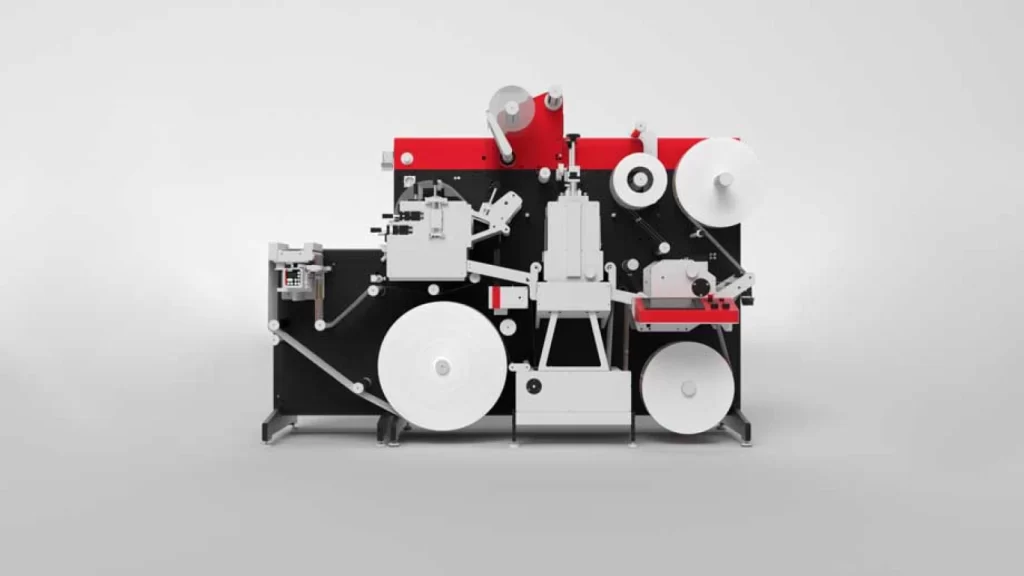 Xeikon continues on its pathway to full digitalization with the launch of its new Xeikon LCU series (Label Converting Units), specifically developed and designed for the converting industries in high-end label production and manufacturing.
Moving to the next technological generation, Xeikon's Label Converting Units are designed with modular and scalable architecture for added flexibility, cloud connection and full integration. They come in two models, the Xeikon LCU350 with its new modular platform for added flexibility and scalability to support business growth – and the Xeikon LCU33, a basic version and entry-level choice. The new LCU series is now available for demonstration at Xeikon's Global Innovation Center.
Jeroen Van Bauwel, Director Product Management, states, "A key value of our new Xeikon LCU series is in the various different options and levels of investment available to suit the customer's requirements. As with many of our digital solutions, the Xeikon LCU series is designed to adapt and grow with our customer's business needs. Through our Xeikon Solution Services (XSS), customised versions and different configurations are possible as the customer's business grows, depending on the application and volumes required, e.g. from a basic varnish through to automatic laser die-cut capability and wider web versions up to 520mm. The integration of the units in the Xeikon LCU series along with cloud connection offers full automation possibilities for both process and information exchange across all equipment. The Xeikon LCU Series are designed to work inline and offline with both Xeikon's Panther and Cheetah digital presses."
With Xeikon's LCU series, automation is available for (a) processes: such as optional automatic turret rewind or optional die plate change, and (b) job information: which allows data transfer to different units, giving transparency and insight to the operator of the various status and functionality of the converting steps. The Xeikon LCUs next-generation machine/machine and man/machine interfaces give the operator full insight into the progress of each converting step. Operators can monitor every process from lamination, die-cutting, slitting, winding, hot foiling and screen printing. The varnishing station comes with increased varnishing width and varnishing register, and an easy upgrade to spot varnishing. Xeikon's new LCU series is highly accurate in terms of precision for cutting and precise registration.
The Xeikon LCU series has exceptional functionality and can be expanded with options that increase the overall OEE of an operation – such as additional flexo stations to avoid change-over between different varnishes, automated laser die-cutting to avoid die-plate change-over and increase turnaround, auto die-plate change to reduce setup time and hot foil, and screen-printing stations to expand application range. The die-cutting can happen semi-rotary at 80m/min to a maximum full rotary speed of 130m/min. Every facet and operational step of the LCU series has been carefully considered and geared for higher efficiency.
To contribute to the digitalization of print manufacturing, the Xeikon LCU series has
1) built-in cloud connectivity for data collection and remote service. The collected data is translated into key information that helps operators in their day-to-day decisions making.
2) Machine/machine interfaces on Xeikon's Panther 2.0 UV inkjet presses and Xeikon's Cheetah 2.0 dry toner presses and
3) Man-machine interfaces which give additional autonomy to the operator.
Van Bauwel concludes, "This is an exciting new development for the converting industries. From the converter's point of view, not only will he now have the latest fully automated and high-quality finishing and embellishing capabilities, but he will also have the flexibility to customise his finishing department and combine a number of different processes to maximise his label applications and extend his label portfolio to grow his business. Xeikon is also addressing customers who are on a smaller budget. The Xeikon LCU33 is an entry-level model designed for smaller business operations. It is an attractive investment, upgradeable and market competitive. With our new LCU series all, processes are now connected in one smooth process from file to finish. With the cloud connection, the operators can now rely solely on the capabilities of the Xeikon machines. Converters today are constantly searching for new technologies and equipment to enable them to meet the high levels of demand from brand owners for the latest sophisticated and unique embellishments plus high-quality finish to attract consumers. With Xeikon's new LCU series, they will have all they need to take the next step to full digitalization in label production and manufacturing."
This text is reproduced with kind permission of Xeikon Manufacturing, you can read the original article first published here.