This text is reproduced with kind permission of Graphic Arts Magazine, you can read the original article first published here.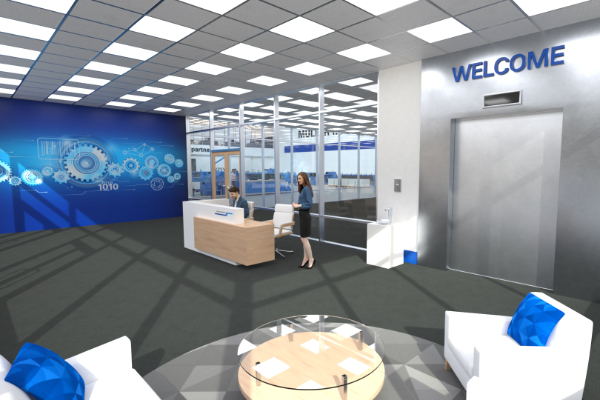 Global print finishing and binding OEM Muller Martini will be represented at The Printing Expo Virtual Exhibition as a Premium Partner with a virtual showroom – which goes online on November 30 at 9.30 am GMT (Greenwich Mean Time). The online event will work in the same way that a live exhibition does, except that you can visit at any time from anywhere across the globe. The hall and all the stands will be rendered to their actual physical dimensions. So when the show opens on Monday, November 30, visitors will be able to navigate through the hall and visit a virtual representation of any stand.
"The digital transformation – and this development was undoubtedly accelerated by the Coronavirus crisis – is not stopping in the graphic arts industry," said Adrian Mayr, Head of Product Management & Corporate Marketing at Muller Martini. "I consider the Printing Expo an interesting format to fill a vacuum created by the live, in-person events that were cancelled due to the pandemic." The company has invited its customers and other interested parties to its virtual showroom. There, visitors will find detailed information on the recently launched Prinova and Primera PRO Saddle Stitchers. A complete perfect binding line with an end-sheet feeder, the Vareo Perfect Binder and the InfiniTrim Three-Knife Trimmer will also be featured virtually.
Helpful 3D machine presentations will be supplemented by information on workflow solutions and the full range of services offered by Muller Martini. In the following weeks, the company will also add more machines virtually – with the aim of presenting all those systems that should have been demonstrated live at the cancelled drupa 2020 tradeshow. "For Muller Martini, the Printing Expo, as the virtual meeting place of our industry, is an ideal additional channel for presenting our solutions in an attractive way," Mayr added. "We can convey such added value as videos, live presentations, brochures and data sheets. Visitors, who can easily navigate back and forth between the various exhibits and equipment manufacturers, are thus provided with virtually the same information as at a conventional exhibition stand."