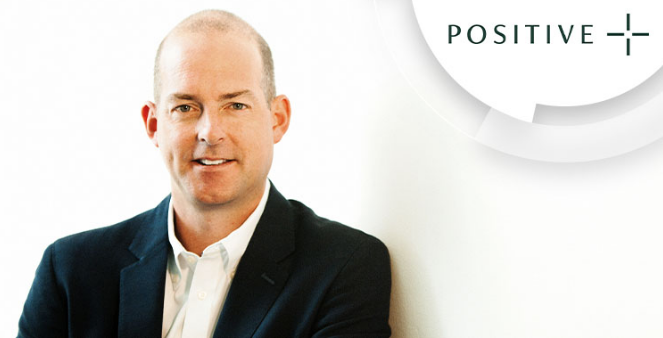 Being able to adapt and change according to customer requirements is core to running a successful print business – we spoke with Danny Sullivan, CEO of POSITIVE+, to better understand how they coped during the pandemic and what growth plans they have in place.
Tell me about yourself and your role
I was a Mac operator, planner and plate maker by trade. My father and I started Solo Print in 1993 and soon became Positive Images because we were making the plates and then outputting film for local printers within London.
We then bought a small printer with a single colour press before moving to a two-colour. Later, we moved to a larger factory where we started off on the top floor before taking over the whole factory, which was like a tardis!
In 2005 we relocated to where we are now, which is about 35,000 square feet, and we've grown continuously since then.
My job evolved over the years and I've been very fortunate to not only be involved in, but also a part of, Cannons Health, which became Nuffield Health. I learned a great deal from their Managing, Financial and Marketing Directors, forging great relationships.
Over the next 10 years of leadership, I gained experience in sales, finance and marketing before deciding we needed to evolve the business from ink on paper. We were already on the technical side of online ordering, which we'd been doing for many years but it was more the value-added side we wanted to grow.
Like all businesses, we've experienced peaks and troughs over the years, particularly when Brexit was announced – it was like someone had turned the taps off and we really saw that collaboration was key.
We were introduced to Trio Offset, who are based on our current site and it's worked fantastically well over the last few years.
When we were also introduced to Colouration we could see their business wasn't growing but it had a value-added business in point-of-sale, along with litho and digital. POSITIVE+'s machinery and processes were more sophisticated and our production quick and streamlined.
We merged the businesses in 2019, but each still has its distinct – but aligned – branding.
How did the pandemic affect you?
In 2019, our collective turnover was £4.6m; in Q1 2020 alone we turned over £1.6m and we had a strong forward order book but when the pandemic arrived, most of that was cancelled.
At that point, we sat back, took a deep breath and tried to figure out what to do. We didn't know how long it would go on for, but as directors we knew we had to lead from the front. The senior management met on 23 March when lockdown was announced; we just stared at each other for some time, trying to work out what we needed to do, before agreeing the need to develop a 3, 6, 9 and 12-month strategy.
We deliberately opted for the quarterly approach and tried not to over-analyse on a weekly and monthly basis.
We're not focused on the here and now, we're looking at the next three to five years. We'll be a very different beast at that point.
The pandemic took our whole industry by surprise – our clientele is very diverse and we deal with companies of all sizes, from SMEs to big blue chips in many different sectors. Some you think are very robust but it turns out they weren't.
At the beginning of the pandemic it was quite depressing looking at the figures but now we are in a position to expand – we have a fantastic team and are looking to recruit and grow the team.
How are things now?
We have been encouraged by the momentum we've seen over the last three months but obviously the last 18 months prior to that were very difficult.
Tell me about how you planned?
We use Salesforce for our projections and our pipeline, and it got to the stage where we could tell which sectors would be most affected by the lockdowns and we could predict which would recover most quickly.
It gave us the ability to project and those projections were very accurate, although the last four months have caught us by surprise because the momentum's come back sooner than we expected.
Are you in a position to meet demand?
Yes, we are. We're a smaller team because we had to make a number of phased redundancies because a large high street retailer isn't going to come back, and they were a big part of one of our client's business.
We unfortunately lost some key people, which is a shame, but we had to cut our cloth accordingly because we realised the volumes we previously did as a group were not going to return.
What's the pandemic done for the print sector?
Looking at POSITIVE+, because we offer digital, litho, direct mail, online, point-of-sale and large format, we knew we couldn't diversify any further. That being said, we've been asked to look into scanning and while it's not something we do, it's something we can manage correctly.
Overall though, we focused on what we felt our clients would need as they were coming out of the pandemic.
With regards to the industry, there's been more collaboration, which is key. There's been more openness and discussions about how we can help each other and work together, and not just locally but nationally.
This will be key for us moving forward, particularly when it comes to looking at what opportunities are available; for example, we're working with someone who can produce certain aspects of point-of-sale cheaper than us. We're looking not just at what we do but what our clients require and how we can deliver more cost effectively and sustainably.
Is there a skills shortage in the sector now?
Yes, it's tough attracting talent into the sector.
Because we're so diverse, we need to identify the right individuals and for us it's all about attitude and giving opportunities to the right people, regardless of age.
During the pandemic we've been able to upskill and cross-train.
We were planning to introduce an academy but while this didn't go ahead during the pandemic, we very much want to resurrect it, starting in January 2022.
Our talent strategy focuses on identifying who we need to move the business forward, and we're constantly in talks with people who bring the right things to the table.
Tell me more about your sales strategy
The sales process has changed dramatically over the past two years because we're now attracting clients through word of mouth, contacts and reputation rather than chasing them.
For example, I had a call recently from a contact at a corporate merchandising company who said he really liked our marketing, particularly our sustainability and accreditation credentials. He said he needed a company like ours to introduce to his clients as a third-party supplier.
The print management companies are now also coming on board because of our online portal, which allows us to service our clients more quickly.
I've always said 'you don't want to ride a turtle, you want to ride a tiger' – we're forward thinking but we've lost 18 months and it's had a dramatic impact on our business.
We're in a very strong position to take the bull by the horns and really march on, understanding what our retention clients require, and importantly, what opportunities our partner collaborations can bring.
We're looking to jump back up to £3m revenue in 2022 knowing we have £2m of spare capacity but it's about working smart and learning from the lessons we've all been through.
Given what you've been through, you are still very positive. Is that fair?
Don't get me wrong, we had many sleepless nights but because the way we are as a board of directors, we have very open and honest conversations.
We led from the front, making personal sacrifices first and we didn't take the redundancy decision lightly because we're all about the team here at POSITIVE+. In addition, many of the team struggled with working from home. We had a skeleton staff and some of the senior team were back on the 'front line' for first time in many years because we still had orders that needed to be completed.
However, when you start to plan the strategy and projections you understand there's light at the end of the tunnel, which gives you the confidence you have the foundation of a great company.
We've always said to the team, 'let's get to the end of 2021 and it will then give us the ability to rebuild'. We've jumped back with great momentum – our sales are 25% ahead of target.
What do you do better?
We've improved our workflows; we've taken the time to learn more, especially on the large format side of things, and the team now are fully focused on what's required on a daily basis.
We've had to tailor our operations and cut our cloth according to the way we want to grow back. Everyone is accountable for what they have to do – that's the mindset moving into 2022 and beyond.
I've also had a mindset change – I'm really going for it now and I'm very motivated and focused on continuous improvement within POSITIVE+.
What impact has Brexit had?
In 2016 – when it was first announced – our clientele turned the taps off and the uncertainty caused us to go down to four-day week for six months and every member of the team supported it.
Six months later we won a number of accounts and we were back up and running.
Uncertainty is the worst thing for our industry because we're right at the front of it. We ensured no client was over 20% of our exposure because we'd been through that pain previously when we lost a considerable amount of turnover.
Brexit is a massive challenge – we are sourcing collaboration in Europe, including France, Spain and Ireland. We predict this will become stronger and we're going to be doing more work in the UK – what we're seeing is work that was previously shipped in is being produced here.
Material shortages are causing us to stockpile – even though we don't have pipeline for that material, we know we'll need it and we'll be in a position to produce what we need and fulfil client requirements. This has caused a drain on cashflow but we have to make sure we're functional as a business.
Import and export is also a big problem with regards to tax, duty and the time it takes to complete jobs – we're having to really manage client expectations. For example, we used to ship gift boxes from China, which took three months – it now takes at least six.
Transport issues have hit us hard and some prices have doubled – there have been instances where transport costs have risen so quickly, we've been unable to pass the cost on and have had to take the hit ourselves.
Talk to me about sustainability
We are a lot greener now – Tony Dennington's job role changed as an MD – he became our Commercial and Sustainability Officer.
He decided he needed to utilise his down time during lockdown and completed a Cambridge University course on sustainability, and the contacts he's made across many different sectors is phenomenal.
He understood the importance of sustainability with many of our customers, especially those in the retail sector.
On the print side (litho and digital), all required accreditations have been met, including how we recycle. With large format, however, massive changes are going to happen and the reduction in the use of plastics is already evident and it's now about innovation in cardboard manufacturing and the recycling of it.
We joined a federation in the retail sector that aims to speed up the journey and processes towards being greener, including how we recycle our toners; how we produce our UV inks, not using black bin liners, how we crush our waste, and so on.
We want to be at the forefront because it's the right thing to do.
One of our biggest clients now requires that everything has to be FSC accredited and biodegradable, including the envelopes and coffee cups – their aim is to be the greenest estate agent in London. It's a great relationship because we're constantly challenging each other.
What's it like working with Close Brothers Asset Finance?
Going back a few years, we never worked with Close Brothers Asset Finance and didn't have to.
About three years ago I met Jordan Pocock and saw a side an entrepreneurial side to Close Brothers Asset Finance I hadn't appreciated and that I wasn't getting from the high street.
Also, the rates were keen and to move the business forward we needed to surround ourselves with good people and suppliers. We also realised we needed to diversify into different areas and work with someone who could understand projections and why we were doing it, and where we wanted to go.
We did our first deals, which went smoothly, but when we wanted to merge, we went to a variety of funders, including high street banks, but the commitment and the interest from Close Brothers Asset Finance gave me, personally, and the other directors, the ability to say 'we're with the right funder because they understand where we want to go'.
I class Jordan as a friend now and we speak on a weekly basis, not just about work – he has a genuine interest in what we're doing and he's a great sounding board. He knows, for example, that I don't like overdrafts and over lending,
We need to work with a funder who can adapt with the changing demands of the sector; Close Brothers Asset Finance are forward-thinking but objective at the same time about what business opportunities are and aren't viable.
You can consult with your account manager and have open and honest conversations, which builds trust.
Without Close Brothers Asset Finance's support we wouldn't be in the same position of confidence, and knowing that we have the future ahead of us gives us all the more confidence.
This text is reproduced with kind permission of Close Brothers Asset Finance, you can read the original article first published here.