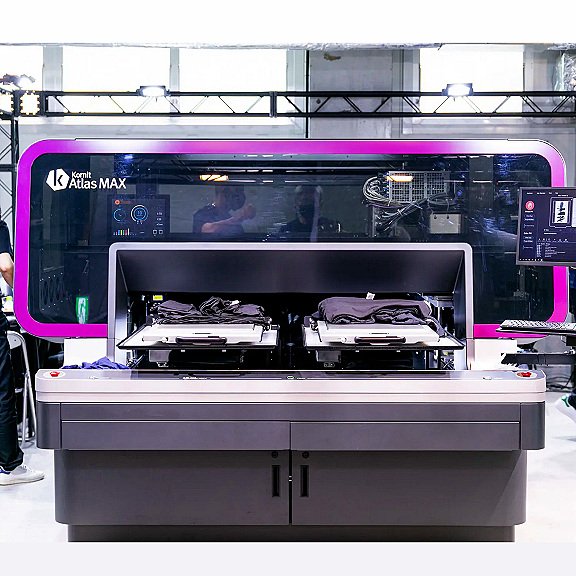 As a great connoisseur of the textile world, Creaciones Japy wanted to go a step beyond sublimation and achieve greater productivity, higher quality and added value that has only been able to come from a solution like The Kornit Atlas Max, with the exclusive XDI technology, marketed in Spain by 3 Print.
Creaciones Japy has been in the market for 26 years and is a well-known company for its specialization in textile manufacturing, especially aimed at the world of sports:
"We are producing on average about 5,000 garments per week, mainly by sublimation, but also dyed garment. In addition, we carry out decoration work of garments for brands, where we apply all kinds of transfers, vinyl, DTF, etc. "explains Javier López, general director of the company, located in Madridejos, Toledo. "Thanks to our experience in textiles, in addition to sportswear, we are reaching customers of all kinds not only from the world of sports, but also work, school, home and decoration, promotional and other sectors that require any textile item. Our main clients are sports brands, fashion brands and advertising agencies."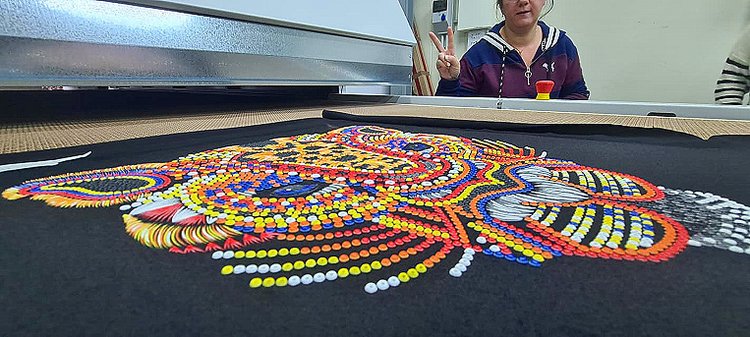 Creaciones Japy has wanted to go a step further in its growth plans and has recently incorporated a new DTG machine, direct to garment without the need for any pre-treatment, which will allow them to increase their production capacity efficiently and profitably, maintaining high quality standards.
In addition, in a sustainable way and benefiting from all the innovative solutions provided by a cutting-edge manufacturer such as Kornit Digital.
Javier Lopez Answered Our Questions
Among All The Offer On The Market, Why Did You Choose Kornit Technology And This Particular Atlas Max Model?
For us it is our first Kornit machine and we decided on this technology when we saw the possibilities it offered; above all we valued the quality of the prints and the expandability that we had ahead. The quality and finish left by this machine has no comparison with anything on the market. And, if we add to this the XDI technology that achieves a 3D printing effect, we were left with very little doubt about what we should incorporate into our machinery park. Even being a high investment, we believe that the return on this investment will be easier than with other technologies of much lower cost, but of which the market is saturated.
"This machine will help us reach market niches that are now very fashionable, for the incredible quality of finishes it offers us and, above all, for sustainability and print on demand"
You Have Been Working With This Machine For A Few Months, What Benefits Does It Bring To Your Day To Day?
This equipment has been installed a short time ago and we can say that we are still in the phase of learning and development of samples and operational, but with this machine we are seeing that we can reach customers who were previously much more difficult to approach and, in addition, we can get out of the "box" of sublimation so that they can see our customers that we not only produce sublimated t-shirts.
What Kind Of Applications Are You Making And In What Fabrics?
This machine has opened the doors of decoration on cotton fabrics, which before we could only do with transfer or vinyl. Our customers demanded a leap in quality and, above all, in differentiation, and with Kornit Atlas Max we have achieved it.
Kornit's XDI Technology Allows Surprising Decorations In Garments… What Do Your Customers Think Of The Results?
The truth is that the acceptance we have achieved is amazing, and it is impressive to see what face our customers have when they touch a garment, appreciate the texture, and immediately begin to imagine what they can do with this technology. When, in addition, you tell them that at the moment it is exclusive in Japy Creations for Spain … Imagine.
How Do You Think This Machine Will Influence The Development Of Your Business?
We hope that this machine will help us reach market niches that are now very fashionable, for the incredible quality of finishes it offers us and, above all, for sustainability. By prioritizing the "print on demand" we do not force brands to place large orders, but they are asking for what their customers demand, whether physical stores or online stores, having zero waste and knowing that everything they do is sold.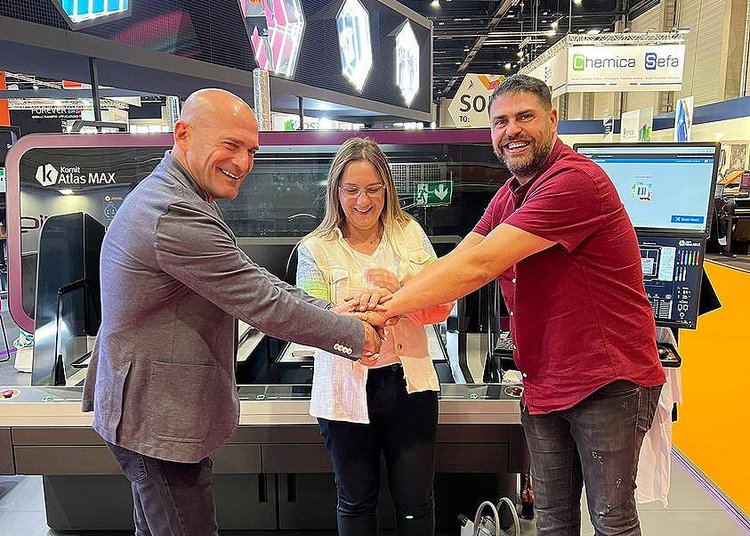 KORNIT ATLAS MAX
This DTG system is the gold standard in quality for mass customization on an industrial scale.
It is a robust solution that allows customers to create new applications thanks to a never-before-seen XDi technology, which emulates screen transfer, heat transfer vinyl, 3D and threadless embroidery effects in automated and cost-effective production
Kornit Atlas MAX powers the broadest range of applications that require fewer resources and space, time, materials and expense than any technology currently available, delivering optimal total cost of ownership and the highest performance per operator to accelerate profitability. In a more sustainable and efficient process.
This text is reproduced with kind permission of Texintel.com, you can read the original article first published here.