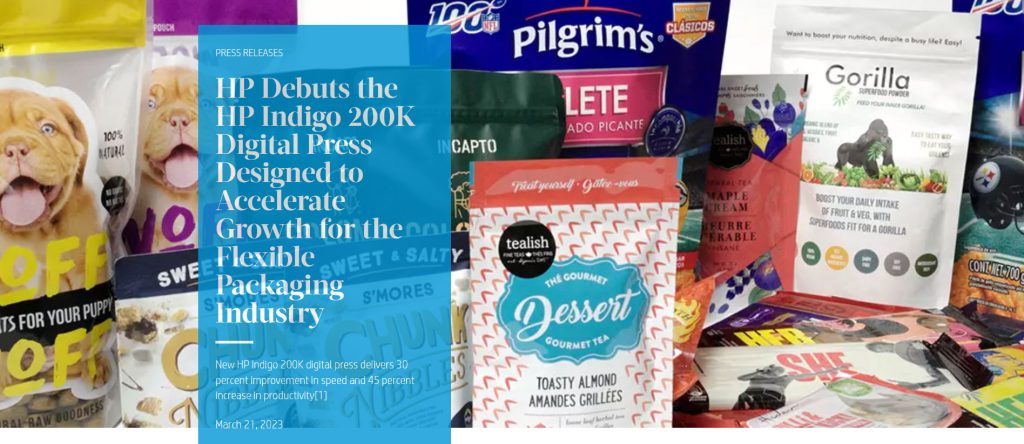 New HP Indigo 200K digital press delivers 30 percent improvement in speed and 45 percent increase in productivity[1]
News Highlights
Increases productivity – pushing the break-even point by 50 percent and allowing customers to triple their volume. Opens door to more flexible packaging converters who want to enter the digital market.
Delivers gravure-matching color quality – using HP Indigo Liquid Electro Photography (LEP) and One-Shot Color technologies. With patented Indigo Spot Master technology, converters can easily reach the right color fast, keep it consistent, and share the color results online with the brand.
Improves sustainability – carbon-neutral manufactured, minimizes waste during set-up and production, reduces energy consumption and is food packaging compliant.
PALO ALTO, Calif., March 21, 2023 – HP Inc. (NYSE: HPQ) today unveiled its new HP Indigo 200K Digital Press, designed to give digital flexible converters the competitive edge with better productivity, on-demand delivery, no minimum orders, unique designs, reduced energy consumption, and minimal waste. The new press is based on the only field-proven digital technology for digital flexible packaging and on a successful install base of over 300 HP Indigo 25K digital presses, series 4, worldwide2. The new, series 5, HP Indigo 200K digital press, prints up to 56 m/min (183 ft/min) and dramatically increases the productivity of high-margin, sustainable short runs of digital flexible packaging, to be delivered in days, not weeks.
"The HP Indigo 200K is a mid-web digital press especially designed for converters addressing the needs of brands in flexible packaging, but it also serves the growing requirements of the label and shrink sleeve industries for higher productivity and wider format," said Noam Zilbershtain, VP & General manager of HP Indigo & Scitex. "Flexible Packaging is a growing market, and as HP Indigo customers are growing much faster than the market3, I have no doubt that the HP Indigo 200K digital press will open the door for more flexo converters who want to join the success, and reign in industry 4.0."
Increased speed while maintaining quality
The HP Indigo 200K digital press showcases a 30 percent increase in speed and 45 percent boost in productivity compared to the HP Indigo 25K4. Featuring gravure-matching color quality based on the HP Indigo Liquid Electro Photography (LEP) and One-Shot Color technologies, the new press offers the widest available range of ElectroInks and is designed to print high coverage packages with white on the majority of industrial substrates, both surface and reverse. Additional business opportunities include unique brand protection elements.
Following the announcement of UK-based Sirane Group as one of the press' first beta customers, Peter Ralten, Commercial and Business Development Director said: "At Sirane, we have been looking into digital print for a while now, realizing it is where the future lies. The HP Indigo 200K digital press, with its incredible increase in productivity, opens new business opportunities for us. With the unmatched HP Indigo quality and versatility, we can't wait to see the results of adding it to our portfolio."
The HP Indigo 200K digital press achieves efficient production with HP Indigo's PrintOS software automation capabilities for batching, ganging, and variable data, as well as faster, accurate color match and workflow. Automation tools for operator efficiency5, coupled with sustainable production, circular packaging and food packaging safety6, all amount to an outstanding digital solution.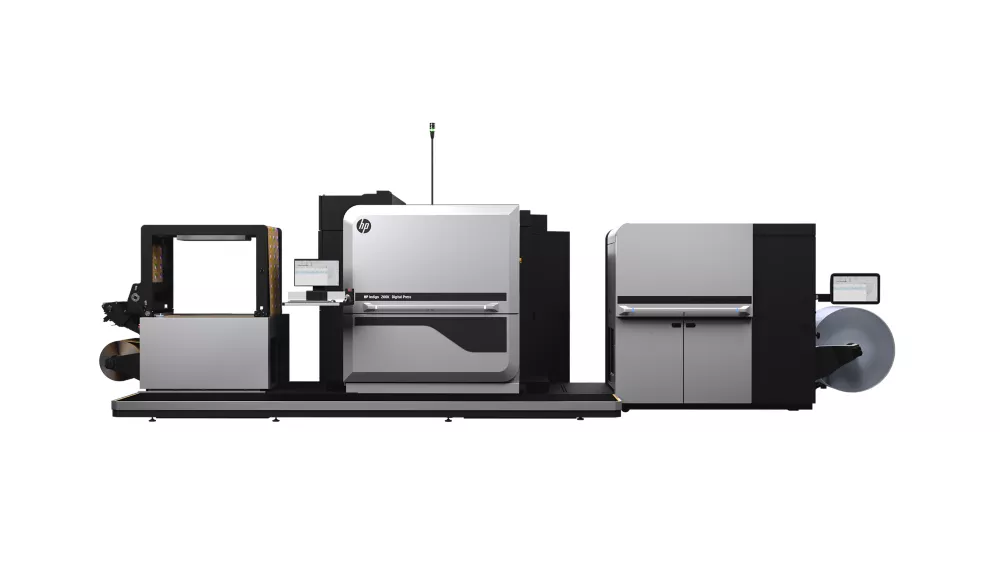 Features of the HP Indigo 200K Digital Press
Mid-web press offers on-demand delivery, no minimum orders, fast setup, and minimal waste per job.
Press print speeds up to 56 m/min (183 ft/min).
A sustainable solution for the flexible packaging market to meet the needs of brands.
1 In comparison to the HP Indigo 25K digital press.
2 Proven technology claim based on IT Strategies Digital Packaging 2022 report, which identifies HP as the market leader in Flexible Packaging with more than 90% share of installations.
3 The Future of Global Flexible Packaging to 2026, Smithers Pira – 2021 (and internal HP Indigo customer statistics)
4 Increased speed is based on Enhanced Productivity Mode
5 Operator efficiency is improved by optimized user interface, quick color calibration, fast ink loading, and fast recovery
6 Selected HP Indigo ElectroInks were tested for compostability against leading standards, and can be used, under certain limitations, as an ink for printing compostable packages (Industrial and Home Composting). For details on approved inks and allowed limits, please contact the HP Indigo team for more information
About HP
HP Inc. (NYSE: HPQ) is a global technology leader and creator of solutions that enable people to bring their ideas to life and connect to the things that matter most. Operating in more than 170 countries, HP delivers a wide range of innovative and sustainable devices, services and subscriptions for personal computing, printing, 3D printing, hybrid work, gaming, and more. For more information, please visit: http://www.hp.com
This text is reproduced with kind permission of HP, you can read the original article first published here.