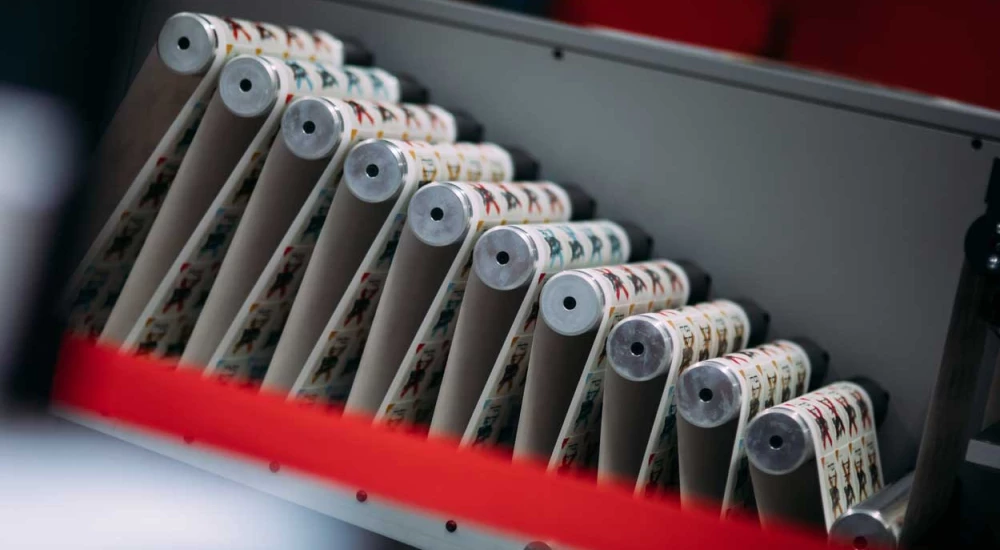 Settling on the right web-to-print label solution defines the very foundations of your digital print output, but which setup is right for you and your business needs? Jeroen Van Bauwel, Director Solution Design at Xeikon, is on hand to shed clarity and share some of the essential B2B/B2C insights you need to know before even considering integrating a web-to-print setup.
Web-to-print has quickly become one of the most popular means of connecting customers and businesses alike with consistent and professional-quality printing. The ease of access, speed, and streamlined print procedure make it the no-brainer, go-to choice for printers, especially for those that want to retain complete control of all brand marketing assets.
Web-to-print is often synonymized with online print, but the latter does not do the full scope of the web-to-print concept justice. Web-to-print encompasses the end-to-end process of consumer-brand-printer-consumer communication; it drives and is driven by the entire trail of promoting, finding, editing, ordering, processing, printing, and the doorstep delivery logistics that come with promoting branded goods. Online print is part of web-to-print, but not its pars pro toto.
We asked Bernd Zipper, Chairman of InitiativeOnline Print e.V., the pan-European association of online printers, and CEO of zipcon consulting, to shed some additional light on the definition of both terms:
Online print is the distribution channel for print products via the Internet, it is merely an extension of traditional sales channels, or – as is the case with many successful online printers worldwide – the successful distribution of print products via digital commerce.
Web-to-print, on the other hand, is the way to generate or qualify print templates for online printing. This means that the customer either sends a PDF as a print template to the printer's platform via "Upload+Print" and this PDF is automatically "qualified" there. This "qualification" is nothing other than a check of the printability of the file – or, in many cases, even the automatic correction. Another "web-to-print" process is the generation of print templates via an online editor. In an online editor, the user can design simple print items himself via a browser. While "Upload+Print" is often useful for extensive printed matter, such as brochures, books or magazines – the use of an online editor is particularly useful for printed matter such as simple flyers, business cards, signs, labels, etc.
Why is this differentiation important? Because even classic printers now offer online portals for their customers, especially in the B2B sector, but they are not necessarily online printers as a result. "Pure" online printers use the entire claviature of the Internet – and thus the power of digital commerce on all online channels.
Now that we've established the very definition of web-to-print let's go back to helping those organizations that want to apply these platforms and tools to their label production process. Why labels? Plenty of web-to-print setups exist for graphic/commercial applications, but the options for label production are a little less obvious. Labels require different functionalities and come with such choice complexities as die-cut, varnish, substrate. Just think of a transparent "no-label look" label, you may have to print a white layer first on some parts of the label to make sure the colors pop the way they ought to. There's more than one parameter to consider when preparing a label for print.
On that note, a label is never "just a label" – what makes it a successful final touchpoint between the consumer and their purchase is a carefully curated selection of printing features that need to be considered beforehand. That's why a label web-to-print setup is more challenging than a commercial print setup.
Label market trends indicate that demand is growing, and that label printing remains a profitable business model – just look at the advent of personalized labels and ad-hoc label content for quick lead times. Trend-sensitive consumers are willing to pay more for branded products that display a non-boring, value-committed label delivering on a brand promise. More and more label printers are picking up on what the brands and consumers want and are looking to professionalize and automate their process with a web-to-print setup for labels. More and more label printers also get approached by commercial web-to-print shops looking to add labels to their print application offering.
Whether you're helping consumers or brands to create label designs or printing them or offering both, you first need to know what solutions are out there, and which ones are the right fit.
You need the full story first to own your narrative.
B2B or B2C? Business focus comes first
Though it is a complex matter, it is not an impossible task to set up web-to-print systems for label printing. First, you need to choose the system that best fits the business model. Don't let the common features fool you, they each serve a different company goal.
– Business-to-business (B2B) systems, for example, are designed to support customized self-adhesive label printing output at a high volume and on a regular basis. They offer tools to customize and brand labels efficiently when it comes to workflow and print order management.
– Business-to-consumer (B2C) systems, on the other hand, are more for individuals and SME organizations that want similar options when printing smaller quantities of labels. They tend to utilize simple user interfaces with customizable templates, and a more streamlined approach to label ordering and payment management.
If you know what you want to achieve, you can start curating the right tools, solutions, and partner to make this happen. Curate before you integrate.
B2B or B2C? The customer relationship defines the front
In the case of a B2B integration, the label converter usually has a close, direct relationship with the brand customer, and this usually manifests in the form of a storefront that holds a set of predefined label settings the customer is already familiar with and prefers to use. In this scenario, the user will likely need a variety of functions, including:
Produce and combine multiple labels for printing.
Make minor modifications and changes to controlled areas on pre-existing designs.
Create new labels from predefined die-cut lines.
Leverage predetermined prices as the customer is a regular user ordering in bulk.
When considering a B2C integration, the complexity you face is quite different. In this scenario, the label converter wants to utilize a storefront where everyone (not just known customers) can actively create their own orders by uploading existing designs or creating new labels. This poses its own set of requirements since there is often no relation yet with the customer, so there's lots of extra information that will likely be entered via the storefront. Further considerations include:
Is the customer able to design their own shapes, for instance, or do they need to rely on a pre-existing repository of die-cut lines?
Can the customer upload existing designs or is there an option for online tools to create something from scratch?
Is there a minimum quantity for a print run?
In what format will the labels be delivered? Rolls or sheets?
Does the customer require an automated label applicator for a diversified product range? (Most B2C interfaces are designed for manual application, so this is an important factor to consider.)
How do you compile the complete web-to-print solution?
When integrating a B2C system for web-to-print label printing, you need a complete solution that provides you and your customers with end-to-end label management and print setup. To achieve this, you'll need to consider the following ingredients:
A working digital storefront.
A preflight system to verify if uploaded content is eligible for label printing.
An interface that connects the storefront and the DFE. The key tasks this interface will cover include:

Converting incoming jobs into manageable batches.
Generating imposed PDFs, job tickets (XML) and print instructions (number of copies, etc).
Generating vector information and printable codes for laser die-cut jobs.
Generating separator labels with tracking information and closing roll labels.

A DFE (Digital Front End) to combine streams into printable bitmaps.
A digital printing press, preferably with a limited set of standard substrates for optimal label printing.
Conversion equipment, such as varnish and a (laser) die cut.
A setup that supports packaging and shipping for your finished print runs.
And preferably, the right curation and integration partner to guide you through the process. This is a made-to-measure solution; you need someone who knows how to tailor to a business.
A B2B system will require a similar yet more basic setup. There are fewer parameters to be considered, as brands have different label requirements than consumers. In a B2B setting, you define the lay of your digital print land, not the end consumer.
In B2C, the customer is king. That means you'll have to make the interface and backend for this consumer audience as idiot-proof as possible in terms of user-friendliness. Make sure the designing, uploading, ordering, and payment process runs as smoothly as possible so you, as a printer, just have to focus on delivering the prints.
Summary
So, while web-to-print might not have started with label printing in mind, it absolutely can be utilized for that very purpose. The key is sorting out the basics first; determine what kind of web-to-print system most applies to your solution, then ensure you have the software, hardware, and workflows to make the magic happen. The pointers covered in this article will help steer you in the right direction and bring you to the solution you need, not the one you think you want.
Don't forget to follow us on LinkedIn to learn more about the power of digital print.
Our team of experts is here to help you with your web-to-print label needs.
This text is reproduced with kind permission of Xeikon, you can read the original article first published here