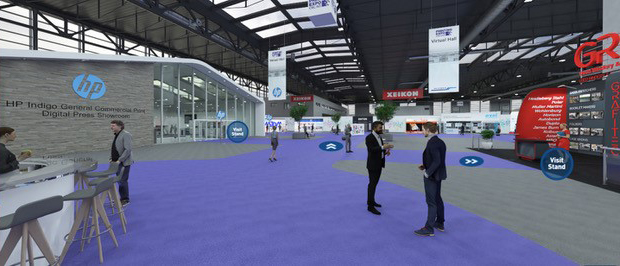 If as a marketeer you've been hearing a lot about the metaverse and wondered how you can become involved or how to make use of this in your marketing portfolio, the team at Printing Expo can assist you to generate your own metaverse digital marketing asset on our platform.
Below are three stages that Printing Expo offers to build your branded metaverse environment. You own the asset, and we handle the design, build, hosting, registration and visitor data collection. You can also embed your environment into your own website as well as create duplicate versions on your own URL that you only allow access to invited visitors or exclusively to your sales team, this may contain 'comparison' product or service information.
Using the platform to its full potential. Remember that this is a virtual world so your environment can match existing real-world places, such as your head office or an existing showroom, or you could create a futuristic 'concept' style showroom environment that showcases a vision and style to match your brand.
As we like to say at Printing Expo; Don't let reality hold you back!
What do you need to do and supply? All you need to do is to supply us with a branding guide, videos and brochures that you want to include and 'outer shell' CAD files of any equipment and products that you want to be included as well as a general idea of what you envisage your environment should look like. We do and manage all the rest whilst working with you at each stage to achieve your goal. Each stage can be completed and used as it is before deciding when or if to move on to the next one.
Stage 1. Create your metaverse environment
Create the environment. We design and build you a 3D branded environment containing promotional content such as videos or downloadable brochures. This can be as simple as something like a 9m2 exhibition stand all the way up to a 3000m2 multiple level showroom with reception, meeting rooms, auditorium and showroom floors containing a range of equipment. Our team of 3D artists are passionate about creating immersive environments and photo realistic product renderings to guarantee that we bring your virtual world to life.
Add avatars and CTAs. We add static avatars with or without customised CTA forms to generate enquiries that go directly to you or to your sales team.
Add content. We create and add 3D rendered products with 'hotspots' that contain technical data sheets and sales literature.
Refresh content. You can create and edit your content with our easy-to-use content management system. This provides total flexibility and freedom, ensuring that each virtual space is kept up to date to help drive visitor engagement. The platform supports uploads of images, literature, videos, 3D files and more. You can also include contact forms to capture sales leads or hold promotional giveaways.
Generate sales leads. We collect visitor data and statistics to generate sales leads which we send to you or connect directly to your in-house CRM platform. This will be visitor business card type information as well as which products or brochures are the most popular and which visitors viewed or downloaded them.
Promotion and marketing. Printing Expo uses its own social media platforms and global database to promote your brand to PSPs, updating them on new content, products and features. We encourage you to do the same and can work alongside your marketing team to coordinate marketing messages.
Stage 2. Enhance your environment to increase visitor engagement
Customise your avatars. We can create customised avatars of your employees to provide a familiar face to your visitors. This may be an avatar of each of your product managers or sales managers standing next to the equipment that they are responsible for with your CEO ready to welcome visitors at reception.
Increase visitor engagement. We can add special additional content such as social media walls, live text or video chats with your sales team, networking group chats, live appointment scheduling, mini games to help visitors learn more about your products or services. All of these will help to draw visitors to the environment and to return time and again as well as to increase sales leads and brand awareness.
Animate your products. We can build fully 3D animated products to give a 360O visitor controllable view of the product. This increases visitor engagement and provides a fully interactive experience that the visitor can use to discover more about your product. For example, it could be the option to lift the hood of a press to view the 'engine' or ink cartridges to provide multiple levels of detail and product information.
Host a conference, conduct interviews or create a launch event in your own environment. Conferences have seen demand for live streaming and mixing shoot through the roof. Our streaming service includes event managers, pre-event support, live direction, video mixing and post-event recordings. We can provide different streaming services to you and outline their features and benefits. Our capabilities extend to the production of multiple live and on-demand streams run over concurrent days to reach a global audience in excess of 100,000+ delegates. Our track record of supplying reliable and professional quality broadcasts means that we're trusted by some of the world's biggest brands.
Use your 3D environment, or we can create high-definition scenery and 3D animations, to be used as a backdrop in our own green screen or LED studio for live streams or pre-recorded videos. Our animations are also frequently used in corporate videos or product animations where the internal workings of a component need to be shown.
Multiple language and local cultural environments. Add multi-lingual content, avatars, or a completely different locally culturally tailored environment. Our in-house translation agency offers professional translation, transcreation, typesetting and interpretation services in a broad range of languages worldwide. We can copy and re-design your environment to encompass local styles, branding and language.
Stage 3. Virtual reality.
Take your environment to the ultimate level.Your environment can be created in a virtual reality environment in combination with VR headsets to generate a fully walk-through and engaging VR experience. You can take your VR environment with you to live events or exhibitions to encourage visitors on to your stand and enhance your brand. For example, you could have a 9m2 stand at a live exhibition but with a 3000m2 VR showroom containing all your equipment that you could walk your visitors through. Many of our 3D artists have a background in 3D Game Design, so they understand the unique challenges of creating content for game engines. We can team up with your development team to create the assets you need or to provide a plug-and-play service through our in-house team of developers.
Next Steps
Contact the Printing Expo team for a demonstration of the possibility to create your own branded metaverse digital marketing asset.
You're just a few steps away from reality.
Chris Watson – Content Director at Printing Expo
chris.watson@printing-expo.online