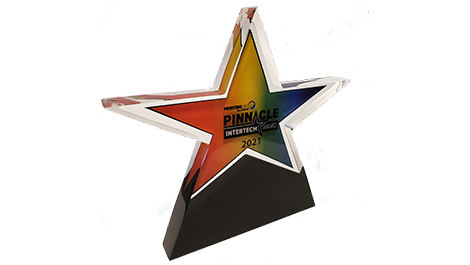 Global Graphics Software has scooped a 2021 Pinnacle InterTech Award for its Direct software. This is the third time in four years that the company has been recognised at the awards, which are organised by the Printing United Alliance.
Direct works by driving data directly to inkjet printhead electronics, which Cambridge-based Global Graphics says provides 'unprecedented speed and image quality.' The judging panel said they expect Direct to be widely adopted and to accelerate the use of inkjet for high volume personalised communications and packaging.
Printing United says that the idea behind the Pinnacle InterTech Awards is 'to celebrate the development of innovative technologies judged to be truly innovative and expected to have a significant impact on graphic communications and related industries.'
Justin Bailey, managing director of Global Graphics Software, commented on the win. 'Printing full colour, fully variable data on the new generation of faster, wider and high-resolution digital presses requires data to be sent to the printheads at blistering speeds,' he said. 'Many manufacturers are hitting what we call the data rate barrier. Direct removes that barrier and builds in the flexibility needed to future-proof print production because the capability of a press is not limited as data rates increase and the press does need to be reengineered to meet future requirements.
'We are delighted that manufacturers, among them Miyakoshi and Fujifilm Integrated Inkjet Solutions, put their trust in us to overcome this challenge. We're also extremely proud of our achievement: the fact that we've been awarded this honour shows once again that we are at the forefront of innovation and developing technology that is relevant in today's market where the shift to the mass customisation of products is accelerating.'
Global Graphics' previous awards were won for ScreenPro in 2018 and PrintFlat in 2019. The wider Global Graphics Group of companies, which includes Hybrid Software, Xitron and Meteor Inkjet, has now managed to win five InterTech awards in the last five years.
This text is reproduced with kind permission of Digital Labels and Packaging, you can read the original article first published here.