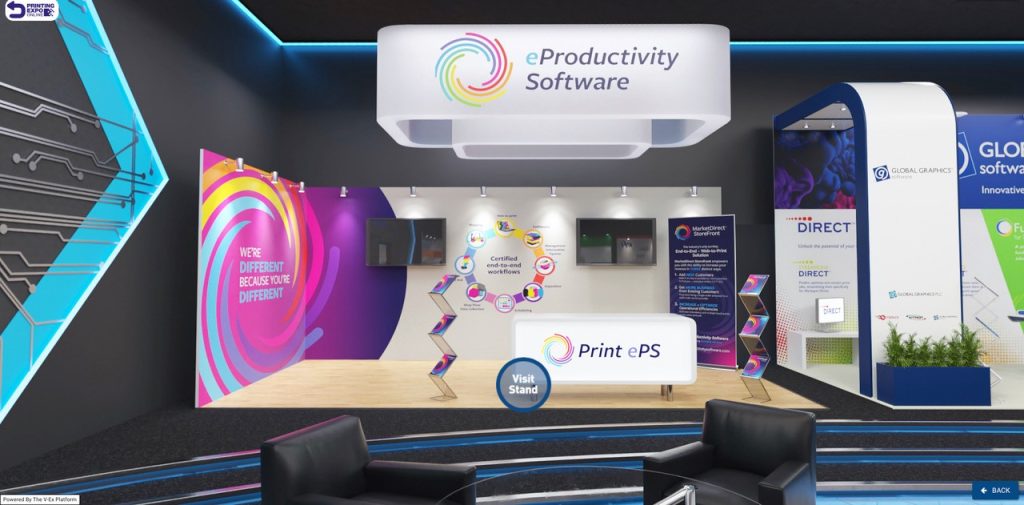 Following the successful launch of the Software Technology Centre in Zone 2 of Printing Expo Online in June this year, the show organisers are excited to announce that eProductivity Software have now gone live with their virtual exhibition stand in this area.
eProductivity Software (ePS) are a leading global provider of packaging and print software solutions. They offer integrated, automated, and purpose-built software technology including MIS and ERP, eCommerce, and industry-enabling point solutions.
Visitors to the stand can source valuable information on the MarketDirect Storefront that is the award-winning flexible e-Commerce solution that offers the best-in-class buying experience for print customers and is designed to win new business, acquire new customers, and grow your existing business.
In addition, visitors can view ePS' industry-enabling point solutions that include dynamic scheduling, smart estimating, and intelligent shop-floor data collection. These powerful solutions work with any generic ERP and home-grown systems, empowering your tech-stack to give you the industry specific technology you need to run a more efficient and profitable business.
iQuote® which is smart software that automates the process of picking the best path for a job through your facility. Processing thousands of pieces of information for each job, including a careful look at virtually every piece of equipment and capability you have, the system makes estimating a visual "smart" process that maximizes your profit potential on every job.
Also on display is the eProductivity Software Midmarket Print Suite which is a print MIS/ERP solution built for the commercial and display graphics industries to meet the challenges printers face today and adapt as their business grows and evolves. The system empowers customers to take control of their production in new ways while optimizing resources and processes that allows them to provide exciting and transformative products to their clients.
Auto-Count® 4D (AC4D) also featured and offers the next-generation shop floor production intelligence platform that allows you automatically collect accurate, up-to-the minute production data including counts, press status, speed, and other critical information directly from your equipment in real time. Auto-Count 4D fully integrates with ePS MIS/ERP systems and scheduling solutions, and leading DFE solutions (via Plant Manager), as well as third-party and custom-built MIS/ERP systems, to provide ease of use and full compatibility with your existing data management solution.
PrintFlow 4D® enables businesses to add back to the bottom-line by optimizing the interaction of all plant activities with real-time calculations, unique "what-if" capabilities, and an enterprise-wide scope. It facilitates an integrated, automated system to increase throughput, minimize costs, and boost profitability.
These technologies are designed to drive revenue growth, reduce the cost of sales and manufacturing, and empower successful transformation of packaging and print companies across the globe through powerful business and production workflow automation. ePS are the only provider that designs, builds, and deploys this technology at scale and globally across all industry segments.
Charlotte Tueckmantel, GM of Enterprise Print & eCommerce states," We are excited to be able to showcase our robust portfolio of print and packaging solutions in a way that allows businesses to access our information anytime, anywhere, and on any device. It is this consumer driven wish for omni-channel access that has powered our resolve to make our solutions cloud-enabled—to meet and exceed this expectation."
David Bentley, GM of SMB Print adds, "We are one of the only technology providers in print and packaging that provides scalable solutions so we can meet businesses where they are today and grow with them while they get to where they aspire to be. We have best-in-class solutions for every size business and can deploy and support them across the globe. In today's current market conditions, businesses need a partner they can rely on and empowers them to mitigate market forces and help them put money back into their bottom line through their technology. ePS is that partner."