The new ePac digital flexible packaging plant in Melbourne is seeing two HP Indigo 25K digital flexible printing systems go in, with installation by Currie Group.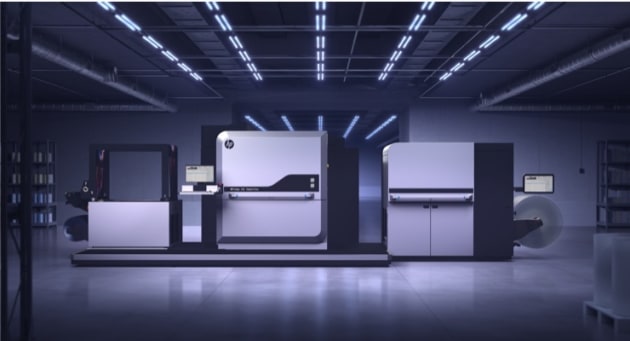 The first ePac production facility in ANZ is eight kilometres from the Melbourne CBD, at the new Newlands Road food manufacturing hub, located in the heart of Coburg's thriving industrial district. It is being headed up by Jason Brown, formerly group divisional general manager at Ball & Doggett.
He said, "Our quick turn-around production time, no setup fees and digitalised process from computer to print allow us to enable small and medium sized brands to achieve higher quality packaging with low minimum orders at optimal prices."
"This strategic collaboration with HP Inc has and will enable us to continue transforming the flexible packaging industry, and ultimately continue to be disruptive in new categories to serve more brands and communities."
The HP Indigo 25K is the new flexible materials digital printing system from HP, superceding the original HP Indigo 20000.
Mark Daws, director – Labels & Packaging ANZ, Currie Group, said, "Since the launch of the HP Indigo 20000 in 2015 we've had considerable uptake of the technology in our region, which in turn has created the shift towards a digital transformation of the flexible packaging industry. Clearly there is a need from brands to have a localised supply chain, that offers the speed and agility to market that they require in today's fast-moving world. The investment by ePac in the region only strengthens this shift, and we look forward to working with the local team in the coming months as they embark on this adventure."
Typical of the customers the new ePac plant is aiming to attract is Adelia Fine Foods, a local business offering nutritious, premium quality, and flavoursome breakfast and snackfood options, which has turned to ePac to scale its business and take advantage of ePac's digital offering, which also means lowering its environmental footprint.
The move into Melbourne and the installation of the two new HP Indigos comes as the next stage of the company's market acceleration, which is seeing the addition of 26 new HP Indigo digital presses around the world, creating a 76-press global fleet by the end of the year.
Over the past 18 months, HP and ePac have mobilising entry into markets in Asia, to address the changes in consumer behavior accelerated by the global pandemic. The new plant in Melbourne, and similar projects in Korea and Indonesia are part of that plan.
With 20 sites fully operational, and Melbourne currently underway, five-year-old ePac serves thousands of customers around the globe, and generates annual revenues of approximately US$200m. Packaging giant Amcor has just taken a stake in the business.
Built entirely on digital printing technology from HP Indigo, ePac serves local brands of all sizes, with a particular focus on small and medium sized businesses producing snacks, confections, coffee, natural and organic foods, pet food, and nutritional supplements.
It provides a five to 15 business day lead time, focuses on small and medium run-length orders, and enables brands to order on demand, and avoid costly inventory and obsolescence.
The global flexible packaging market is expected to reach a value of US$248.6bn this year, at an annual growth rate of 4.1 per cent since 2016. It is forecasted to further grow at a rate of 3.2 per cent to a value of US$291bn in five years time.
Arnon Goldman, general manager and director of APJ Industrial Graphics, HP, said, "HP recognises the growing importance of flexible packaging as the world shifts its focus to using more sustainable and innovative materials. We look forward to enabling more converters like ePac to stay competitive and provide their customers with high-quality packaging solutions.
"Our goal has always been to innovate with our customers and to bring new value to partners and brands with HP Indigo, enabling them to thrive in the fast-growing industry. We're happy to bring this to life with ePac and to support them in their journey to transform along with their customers."
This text is reproduced with kind permission of Print21.com, you can read the original article first published here.