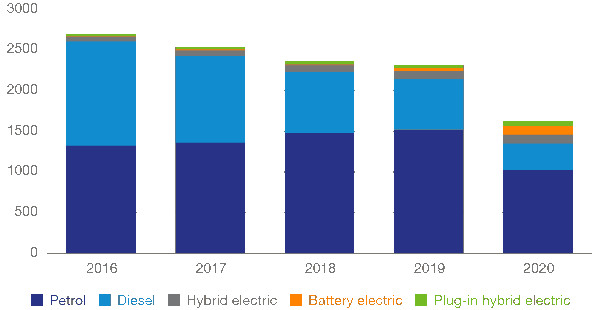 Sales of plug-in electric vehicles have been steadily rising year-on-year. In this review we take a closer look at some of the underlying figures that make up the Electric Vehicle (EV) market in the UK and Europe.
Europe
Despite significant market disruption caused by the global pandemic, electric vehicle sales still saw very strong year-on-year growth in 2020, which is indicative of the growing demand for electric vehicles worldwide and in Europe.
Nearly 1.4 million BEVs (battery electric vehicle) and PHEVs (plug-in hybrid electric vehicles) were registered in Europe during 2020, 137 % more than in 2019, with around 177,000 electric vehicles sold in the second quarter of 2020 alone.
In 2020, Germany was the largest European market in terms of plug-in electric vehicle sales with motorists purchasing nearly 400k plug-in electric vehicles. Norway held the highest market share of plug-in electric vehicles among European countries.
UK passenger vehicle registrations
In 2020, there were 1.63 million new passenger cars registered in the UK, which was a significant decrease compared to 2019, continuing a downward trend since 2016.
2016 – 2,692,786
2017 – 2,540,617
2018 – 2,367,147
2019 – 2,311,140
2020 – 1,631,064
The most important feature British consumers were looking for in their new car was fuel efficiency. According to a 2019 Statista survey, 61% of respondents reported this to be of highest importance to them when deciding on a new purchase, followed by the vehicle's safety.
At the end of December 2020, there were 38.6 million licensed vehicles in the UK, a 0.3% decrease compared to the end of 2019. This is the fourth consecutive quarter where there was a year-on-year decline of licensed vehicles.
Passenger car registrations in the UK 2016 and 2020, by fuel type (in thousands)
Barriers to electric car ownership
While one in five respondents to a Venson Automotive Solutions survey said their next car will be electric, and 26% said they will consider switching to an EV within five years, a number of barriers to purchase still exist.
These include range anxiety, cost of EVs, availability of charging points, charging times, uncertainty of how to charge, and higher electricity bills.
Market share
Since 2017, the popularity of diesel cars has been decreasing with the decline attributable to a number of factors, from the ´Dieselgate` scandal, to fears of tighter regulation and the fuel's impact on the environment.
The average price of diesel has also steadily increased with a peak in prices recorded in October 2018, when it reached 136.7 pence per litre; the figure today stands at an average of 133p.
Market share of fuel types in new cars registered in the UK 2016-2020
BEV & PHEVs registered in the UK by month 2016-2020
BEV car registrations peaked at almost 22,000 in both September and December 2020; between January and December 2020, BEV registrations accounted for 6.6% of the market, 5% higher than in 2019.
UK PHEV registrations soared in September 2020 with a peak of 12,400 new registrations, a staggering 138.6% increase on September 2019.
Charging points
The number of charging locations available for electric vehicles in the UK has steadily increased. As of January 2020, there were 10,616 public charging locations in the country – today there over 33,000 individual public charging connectors in the UK at around 12,000 locations.
By summer 2019, there were more electric vehicle charging stations than petrol stations.
This text is reproduced with kind permission of Close Brothers Asset Finance, you can read the original article first published here.